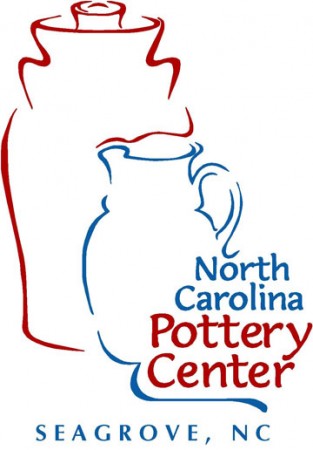 As you all should know by now, government support for the arts is being cut back – whether it's from local, state or national sources. That's why fundraisers like the NC Pottery Center's Going, Going, Gone to Pots is so important. But, it's also a great opportunity to make a bid on some great pottery – new and old – by some great potters.
Hey Tom, I thought you have argued against the visual arts being used for fundraising purposes. I have and still will, as the visual arts are being used as what seems like the sole source of fundraising in the non-profit sector, but when it comes to visual artists helping the facilities and organizations that benefit them – bring it on. I'm all for that – it just makes sense.
And, if you're thinking – I don't need another piece of pottery or you can't be bothered to go to an auction – just send the NC Pottery Center a check. The results are the same – just not as fun. Here's a link for an easy donation.
So here's a press release about the NC Pottery Center's fundraiser.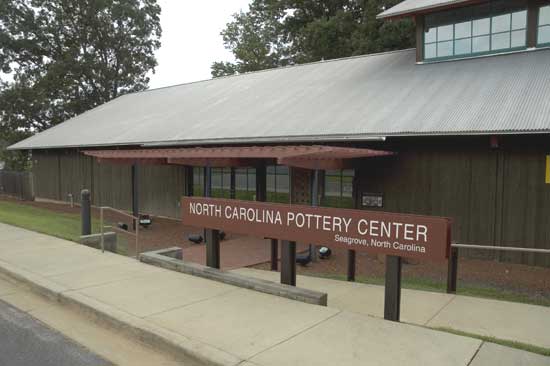 The North Carolina Pottery Center, in Seagrove, NC, partnering with Leland Little Auction & Estate Sales, Ltd (LLAES), is pleased to announce, the 12th annual Going, Going, Gone to Pots fundraising auction on Aug. 11, 2011. The auction, our main fund raising event of the year, will feature an outstanding selection of contemporary and vintage North Carolina pottery donated by top NC potters and collectors, as well as other exciting participatory and pottery related items. The lots are available for viewing now at (www.ncpotterycenter.com) and (www.llauctions.com). This provides an excellent opportunity to purchase the work of nationally known NC artists for your collection, whether you live in NC or thousands of miles away. The move of the auction to Hillsborough, NC, and LLEA's offers the opportunity for absentee, advance and live  telephone bidding for persons unable to attend the live auction.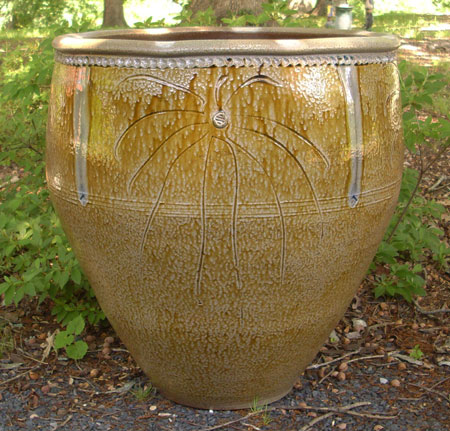 Work by Mark Hewitt
The Auction is scheduled for Thursday evening, beginning with a 6pm wine and cheese reception with the potters, a chance to meet and talk with several of North Carolina's prominent potters. The auction begins at 7pm with raffles and more. There is no admission and everyone is welcome!
The fundraising efforts are already underway on line, with more being added soon. Visit (www.ncpotterycenter.org) to purchase raffle tickets for an 18" Donna Craven covered jar valued at $450. This piece will be on display at the NC Pottery Center until Aug. 9, 2011, and then again at the auction reception. Tickets are $10, or 3 for $25, and all proceeds will benefit the ongoing operations of the North Carolina Pottery Center.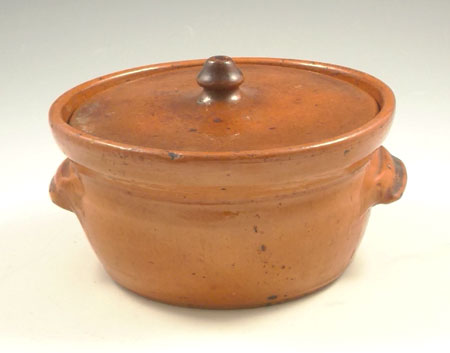 Bean Pot with lid by Jugtown Circa 1930-1940, Donated by Bruce Daws
The NC Pottery Center's mission is to promote public awareness and appreciation of the history, heritage, and ongoing tradition of pottery-making in North Carolina through education programs, public services, collection and preservation, and research and documentation.  As with all non-profits, fundraising continues to be challenging but your support allows us to implement exciting possibilities and ensure continued success and viability of this museum that promotes and protects one of North Carolina's most treasured resources. We hope you will stand with us to keep this wonderful tribute to clay viable and ongoing by supporting our annual auction.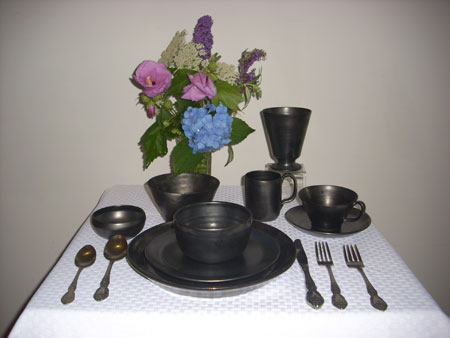 Works from Cole Pottery
Along with our partner, Leland Little Auction & Estate Sales, the following sponsors have generously committed their support to the North Carolina Pottery Center's auction: First Bank of Troy, Brad Crone, Progress Energy, American Ceramics Society, Aftifex, Jugtown, Caroleen Sanders, Linda Carnes-McNaughton, Pat Palmer & D. A. Livingston, Randolph Telephone Membership Corporation, Community One Bank, The Cranford Agency, Bruce Daws, Carmen Guy, Patricia Hart, Klaussner, Benjamin McDowell, Marilyn Palsha, Pugh Funeral Home, Westmoore Family Restaurant, Gardner Heating & Air, Randolph Electric Membership Corporation, Randolph Printing, The Grove Park Inn, Courtyard by Marriott Chapel Hill, Ducksmith House B&B, Seagrove Stoneware Inn, NC Zoological Society, Chili's with more joining daily.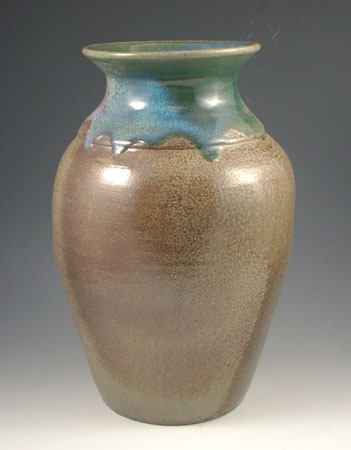 Work by Sid Luck
The North Carolina Pottery Center offers educational opportunities to statewide schools and individuals, changing historical and contemporary exhibitions, demonstrations, and information about statewide potters. The NCPC is a private nonprofit entity, funded primarily through memberships, grants, admissions, and appropriations.
The Center is open, Tuesdays – Saturdays 10am to 4pm. Admission (excluding free special events) is: $2 – adults, $1 – students 9th through 12th grades, Free – children through 8th grade, free – NCPC members. Handicap accessible. Groups and tours welcomed.
For further information and details call 336/873-8430, e-mail at (info@ncpotterycenter.org) or visit (www.NCPotteryCenter.org).
Tags: 12th Annual Going, Donna Craven, Going, Gone to Pots, Hillsborough NC, Leland Little Auction and Estate Sales, North Carolina Pottery Center, Visiting Hillsborough NC, Visiting North Carolina, Visiting Seagrove NC