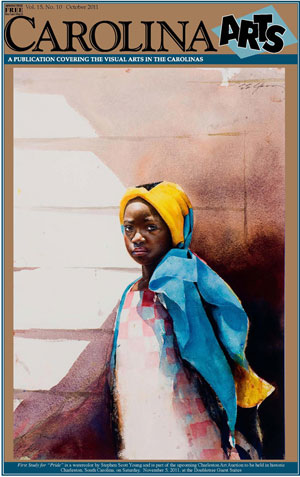 What a difference a holiday makes – or the lack of one makes when it comes to downloads of our Oct. 2011 issue of Carolina Arts. Last month, in the first ten days of Sept. we had 29,593 downloads. We ended up Sept. with a total of 37,344 downloads. In the first three days of Oct. (without a holiday) we had over 38,000 downloads and by day ten – our total was 55,160.
Our Oct. 2011 issue was our largest issue ever with 76 pages of visual arts, so if we just get some decent downloads during the rest of the month we could surpass the all time download winner – May 2011 – which brought in 61,199 downloads. Can that be possible? I don't know, but I've probably already jinxed it.
If you haven't downloaded the Oct. 2011 issue yet – the magic link is (http://www.carolinaarts.com/1011/1011carolinaarts.pdf). It takes a few minutes to download depending on you internet speed, but I've been told by some it's a great issue.
The other numbers for downloads of previous issues are as follows:
June 2011 – 351
March 2011 – 346
July 2011 – 206
January 2011 – 50
August 2011 – 30
September 2011 – 29
The other issues didn't show up in the top 200.
I want to thank all those folks who are sending our download link out to their e-mail list, posting the link and notice on their Facebook pages, and spreading the news any other way you can. It really makes a difference in how many people see the paper and more and more of them are requesting to be put on our list that we send out at the beginning of each month.
We'll report back after the end of the month on the monthly totals.
Tags: Carolina Arts, NC Visual Arts, SC Visual Arts, Visiting North Carolina, Visiting South Carolina