There was a time when it seemed like I was going to an opening reception for exhibits at the Art Trail Gallery in Florence, SC – every other month. It didn't actually happen that often, but it seemed like it as I wasn't getting to much of anywhere else. Travel like I used to do has been hard to come by. That can be explained with three factors – I don't have to physically deliver our paper anymore, extra gas money has been hard to come up with these days, and our son, his wife and their two children live with us now.
So going to the Pee Dee is easy for me. It's not far away and I can get there and get out fast and be back home in no time at all. And make no mistake – I'm yearning to go to many other places – far and wide, but for now the quick and easy will have to do. And, I might get too travel farther once things settle in and it cools off a little in the Carolinas.
This latest trip was a multi stop trip which I enjoy most. Because the Art Trail Gallery reception for "Vulcraft-Nucor Visualicious 2013″ was being held on a Friday, I was able to check in at the Jones-Carter Gallery in Lake City, SC, before I headed further north on Hwy. 52 from Bonneau Beach, SC – headquarters of PSMG, Inc. and Shoestring Publishing Company which produces Carolina Arts.
At the Jones-Carter Gallery, operated by the Community Museum Society Inc, I checked in on the exhibit "agriART," featuring works by Joshua Vaughan, Mark Conrardy, and an installation by Vassiliki Falkehag. While there I had the opportunity to catch up with Hannah L. Davis, Gallery Manager and Historic Preservation Coordinator for the Community Museum Society. She was also curator of this first exhibit at the new space in Lake City.
It should be noted that on the door was a change of hours from Mon.-Fri. to Tue.-Fri., 10am-6pm – a move in preparation for Saturday hours. Hopefully, soon visitors to the Pee Dee will be able to make a triple stop in Lake City, Johnsonville, and Florence on a Saturday art adventure.
It also should be noted that the "agriART," exhibit will be closing earlier than scheduled on Aug. 19, 2013, for maintenance and renovation. If that seems a little early for a gallery space which has only been open a few months – I hope to have some good news about that soon.
Davis and I talked about a lot of things – how to grow tobacco plants inside a gallery, a visit to the gallery by the Lake City High School football team, and the fact that the gallery is seeing more outsiders than locals so far.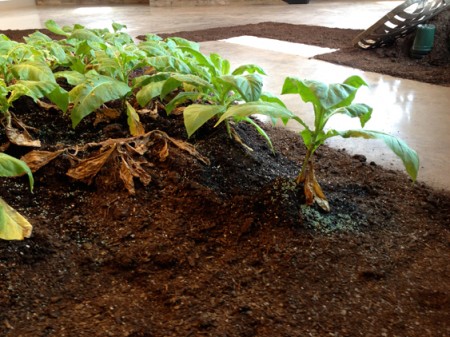 The tobacco plants had grown since the exhibit opening.
The Jones-Carter Gallery is a beautiful space that will no doubt have an interesting and eventful future ahead of it. Right now it is the tip of the spear for all the cultural changes Lake City has planned. So, you better get there soon to be able to say you were there at the beginning.
For further information call 843/374-1500 or e-mail to (hdavis@cmslc.org). You can also like their Facebook page at (https://www.facebook.com/JonesCarterGallery).
Within 30 minutes I was parked less than 100 yards of the door of the Art Trail Gallery in downtown Florence at the corner of Irby and West Evans Streets – another reason I like going to the Pee Dee. Parking was free and there was plenty of it to go around.
This was my second visit to the new Art Trail Gallery at its new location, just around the corner from their old location on Dargan Street. But it was my first reception in the new space. The reception had already been going on an hour by the time I arrived and it was pretty lively inside. There was a good crowd on hand and people were enjoying the food and good conversation about the works on display. So I headed right in for my first walk though of all the works on display.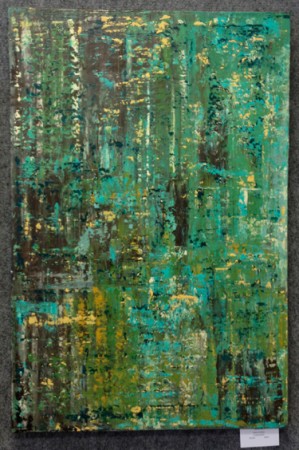 Work by Sherry Dailey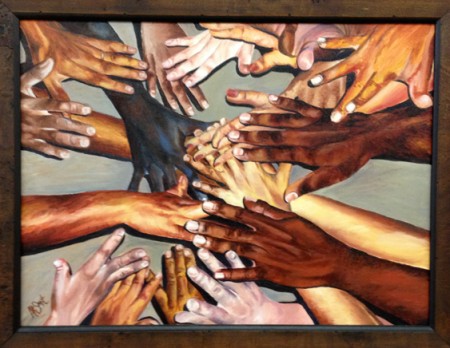 Work by Amy Smit
This new space has less wall space than the old location, but it is not small and it seems to be more set up for social networking. The first noticeable thing was that there was no lack of seating during the reception. Good news for older folks like me, who can stand only so long. Of course the gallery was also offering a free Jazz Night concert during this reception, so maybe all the seating was for that and other receptions might not offer all that seating, but here's my open request for all receptions at all facilities – provide seating and lots of it.
On my first pass I was seeing some good works. There were some from artists I remember form exhibits at the old location and a good number of new names I didn't remember or was seeing for the first time. I then started taking photos of those works that stood out to me. Works I wanted to show when I wrote this blog entry. There is no rhyme or reason for what I'm attracted to and over all I didn't spot much that I didn't feel should have been included in the Professional works. In the Novice works there were typical works that looked like they were made by beginners as well as a few who could have hung with the Pros.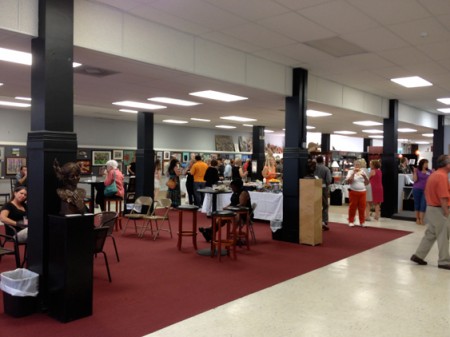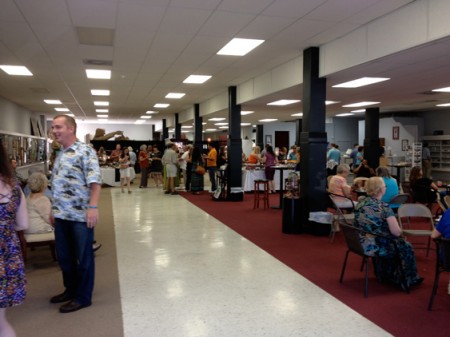 Just about as soon as I stopped taking photos the announcement of the award winners began. The judge for awards was Amelia Rose Smith, an artist I've known in Charleston, SC, for more years than either of us would want to admit. I love her work and the gallery had a good display of it – which was a nice touch so visitors could see that this judge knew her stuff.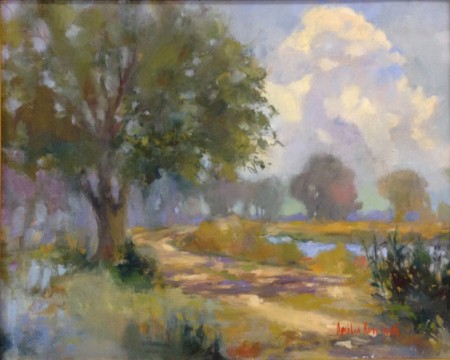 Work by Amelia Rose Smith
After the award ceremony was done I had selected five of the 15 artists she had selected for awards which was pretty good. There have been times when I didn't like any of a judge's selections and wondered if they were blind or what. Even when it came to individual selections by artists Smith and I liked different works by the same artist. Which just goes to show – everyone like different things. It's nice to win an award, but it's also not life or death if you're not selected. Your day will come – all judges are different.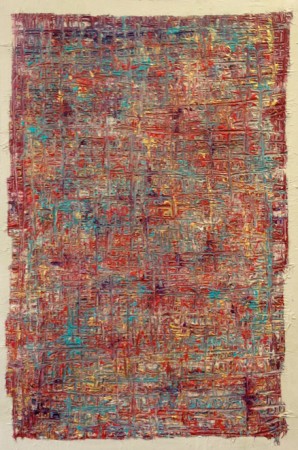 Work I liked better by Sherry Dailey.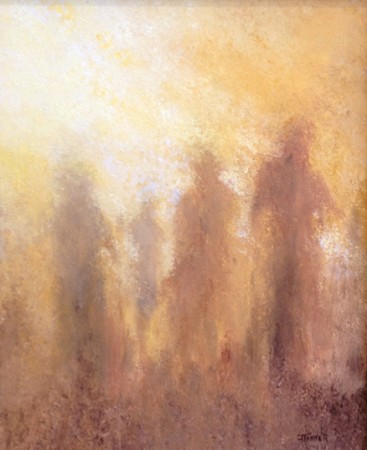 Work by Johnny Tanner I might have scored higher.
I know the Art Trail Gallery has been more inclusive than exclusive – something the artists in the Pee Dee region need, but I hope one day as opportunities expand for displaying art arrives – as I'm sure they will in Florence, that the gallery offers some curated exhibits where artists are invited to show works that tell a story or explore a selected subject. It would be great if they get to a point when they can present a major show by one deserving artist who doesn't have to share the walls with anyone. But, then the new Florence Museum of Art will be open soon right next to the old gallery location on Dargan Street.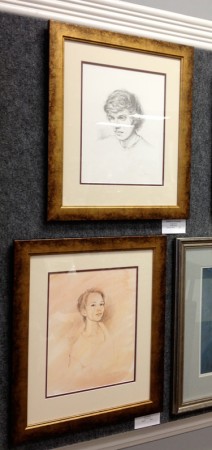 Two works by Gingi Martin.
There was plenty of food and beverages offered – which seems to be a tradition with the Art Trail Gallery, although I did have a meatball which seemed like I was getting my salt content for a year. Maybe I got the unlucky one that got an overdose, but all the rest of the food I tasted was great and plenty of other folks were eating lots of meatballs – so it might have been me. Hey, we're lucky that any gallery these days serves anything at a reception – so I'm not complaining. And we all have to remember – it's all about the art on display.
Eventually the Jazz band started playing and it got a little hard to talk and, since I still had to drive home, it was time for me to leave. One of these days I'm going to make an overnight stay in the Pee Dee so I can enjoy all that this new arts district has to offer.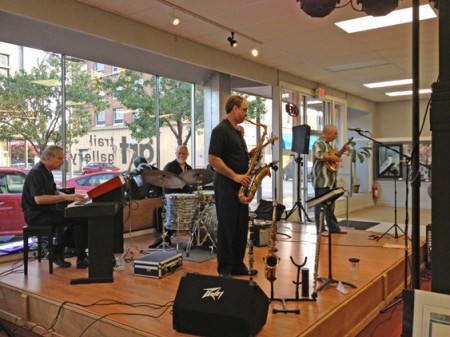 Here's a list of all the award winners:
The Best of Show award was presented to Gingi Martin, for an oil painting entitled "The Elusive Peacock".
PROFESSIONAL DIVISION:
First Place went to Pam Rhoads, for an oil painting titled "Jump For Joy".
Second Place was awarded to Johnny Tanner for an acrylic painting entitled "Freedom Light".
Third Place was given to Sherry Daily for an acrylic entitled "Serenity".
Honorable Mentions were given to: Ann Page for a woodburning titled "Screech Owl"; Gaye Ham for a watercolor titled "Fruit Loops"; and Denny Stevenson for an oil painting titled "Untitled #5.
NOVICE DIVISION:
First Place was given to Amy Smit for an oil painting titled "Serving Together".
Second Place was awarded to Patricia Emery for a pastel painting titled "Faced in Blue".
Third Place went to Jessicah Kean for her work "Masked".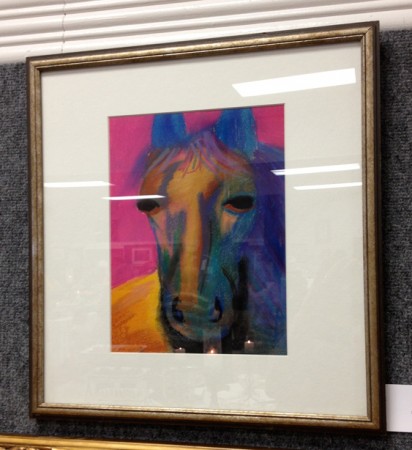 Again – work of Jessicah Kean I liked better. Works behind glass are hard to photograph.
Honorable Mentions were given to: Antoinette Ganim for her work titled "Pink Peace"; Gena Sallinger for her work titled "Peace"; and Jana Goss for her work titled "Peacock".
The Gleason Emerging Artist Award was given to John Ainsworth for his wire work titled "Greeting In the Park".
The Vulcraft-Nucor Award of Excellence was given to Patricia Emery for her colored pencil piece titled "Reflections of the Afternoon II".
One last thing about the awards. It's nice when local companies like Vulcraft-Nucor step up and provide support for exhibits and cash awards and it was really nice of Jim Gleason to step up and provide an Emerging Artist award, as it was not too long ago when he was a beginning artist looking for recognition and encouragement.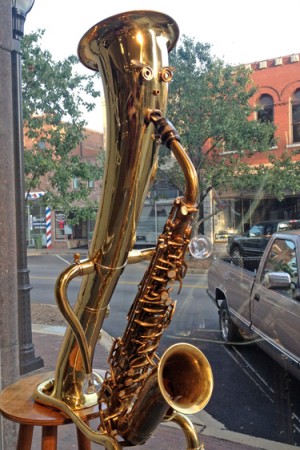 One of Jim Gleason's creations.
The Art Trail Gallery is located at 185 West Evans Street in downtown Florence and "Visualicious," will remain on view through Sept. 7, 2013. Gallery hours are: Wed., 11am-6pm; Thur., 11am-3pm; Fri., 11am-6pm and Sat. 11am-3pm.
For further information call 843/673-0729, e-mail at (atg@art-trail-gallery.com) or visit (www.art-trail-gallery.com).
Tags: "Vulcraft-Nucor Visualicious 2013", agriART, Art Trail Gallery, Carolina Arts, Community Museum Society Inc, Florence SC, Jones-Carter Gallery, Lake City SC, Visiting Florence SC, Visiting Lake City SC, Visiting South Carolina