The ever expanding Upstate Heritage Quilt Trail in SC continues to grow. Here's some info about the latest additions.
Little Miss Muffet sat on her tuffet,
Eating her curds and whey.
Along came a spider who sat down beside her
And frightened Miss Muffet away!
It is a tuffet, or footstool, that has inspired a recent addition to the Upstate Heritage Quilt Trail. Anna and Jamie Smith installed a quilt block called Momo's Tuffet in the garden at their home on Long Creek Highway in Westminster, SC.  The original quilt was made by Anna's mother, Carolyn Harris of Fair Play, SC, as a tuffet, or foot stool, in honor of her daughter's birthday. Her father made the frame.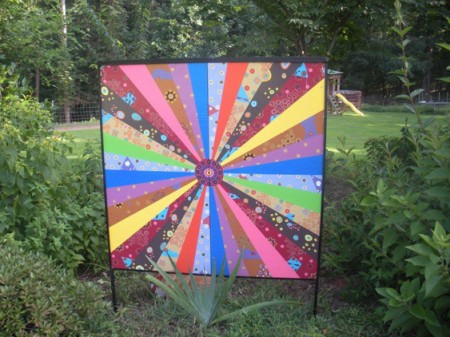 Carolyn Harris has "been seriously quilting for twelve years, but sewing since my maternal grandmother taught me to use her treadle machine. My mother continued the encouragement through 4-H sewing projects. My love of stitching, fabrics, and mental designing has created a desire to make color and value be the voice in my quilts while continually striving to excel in workmanship. Taking classes from nationally and internationally known teachers, teaching and judging quilt shows are part of the joy of being a quilter."
Hanover House, located in the South Carolina Botanic Gardens on the campus of Clemson University, has also joined the Upstate Heritage Quilt Trail. It was built in 1716 for French Huguenot Paul de St. Julien in Berkeley County, SC. St. Julien honored his French heritage in the mortar of one chimney where he inscribed, "Peu a Peu," from the French proverb, "Little by little the bird builds its nest." The house remained in the St. Julien and Ravenel families for nearly 150 years.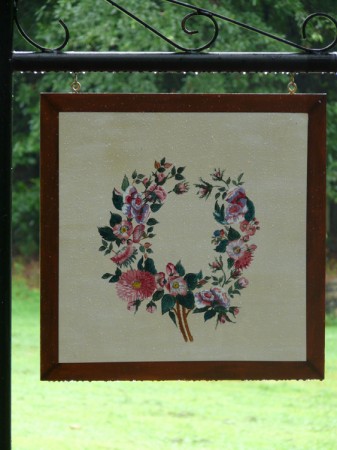 The Historic American Buildings Survey of the Santee-Cooper basin noted that Hanover was of national significance. Threatened with flooding by Lake Moultrie in 1942, it was relocated and preserved at Clemson University and the South Carolina Botanic Gardens in 1994. The Spartanburg Committee of the National Society of Colonial Dames of America furnished Hanover with 18th and 19th century period artifacts. It has been restored as a monument to early French Huguenot colonial structure. It interprets the lifestyle of Lowcountry South Carolina and is listed on the National Register of Historic Places.
The double sided quilt block has been mounted in front of the home near the driveway entrance and reflects its history and furnishings. The original pieces of hand work are displayed in the home. The first is an Antique Appliqué Square in a floral wreath pattern 14 ¾" x 14 5/8" sewn by Harriet Porcher Smith. She was born in March 1844, at Mexico Plantation, Berkeley, South Carolina and died on July 22, 1855, in Pineville, St. Stevens Parish, South Carolina at 11 years of age. She was the daughter of Robert Press Smith and Mary Mazyck Gaillard both descendants of Huguenot families in Berkeley County and related to the St. Julien and Ravenel families of the Hanover House.  Harriet was descended from the youngest sister of Paul se St. Julien, Jeanne Marie de St. Julien (1707 – 1764) who was Harriet's great-great-great grandmother on her mother's family tree.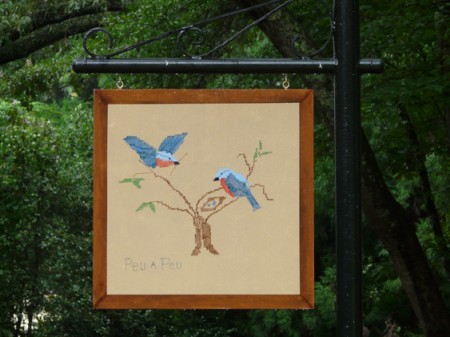 The second block, called "Peu a Peu," is the motto for the Hanover House at Clemson University. Begun in 1714 for Paul de St. Julien the house took two years to complete. The residence was originally designed as a brick structure but the basement and huge chimneys used all the bricks on hand and the house was finished in cypress. Thus, Paul had the inscription carved in the belt course of one chimney in French the phrase which translates to "Little by Little". PEU À PEU for the French proverb Peu à peu l'oiseau fait son nid, which is "Little by little, the bird builds his nest."
Hours of operation are Saturday 10am to noon and 1 to 4:30pm, Sunday 2 to 4:30pm, closed University holidays, additional hours by appointment. An admission donation of $5 for adults, $4 for senior citizens and $2 for children is suggested. School and tour groups by reservation only. Call 864/656-4789 to schedule a group tour.
For more information and pictures, visit (www.uhqt.org).
Tags: Carolina Arts, Clemson SC, Upstate Heritage Quilt Trail, Visiting Clemson SC, Visiting Westminster SC, Westminster SC