I'm not sure you'll be able to call this a review, but I went by the Charleston Visitor Center (Charleston, SC) today and viewed the 25th Annual Piccolo Spoleto Festival Juried Art Exhibition. The Exhibit is organized by the Charleston Artist Guild for the City of Charleston Office of Cultural Affairs. After viewing all the works once, I picked up the official program for the show and began to go over it. The program stated that 140 artists submitted 3 works each = 420 works of which the two jurors for this show selected 37 photographs and 63 paintings/2D = 100 works in the show. My first reaction was that there couldn't be 100 works in this exhibit, but I'm sure there were. I may not have seen some works as well as I would like as they were nearly on the floor – not the best angle to view art.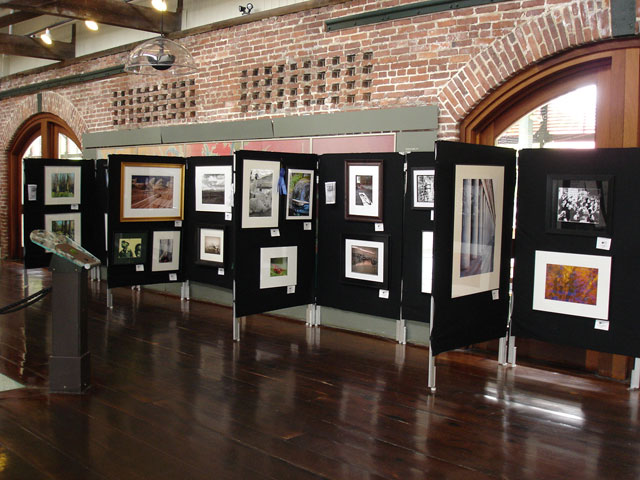 I also looked through the program to see if this was really two different shows – one being the Piccolo Spoleto Festival Juried Photography Exhibition and the other being the Piccolo Spoleto Festival Juried Painting/2D Exhibition. You see, the photography was displayed all together on one side of the room and the paintings/2D were displayed together on the other side. Why was this done I wondered? Was it to make for easy comparison against the works that won awards and those that didn't in each media? Or, was it not to confuse the public who might not be able to tell the difference between mediums? It couldn't be that as the media was printed on each work of art's tag. The organizers of the exhibit brought in two different jurors to select works in the two different categories for First, Second, Third, and Honorable Mention awards in each category.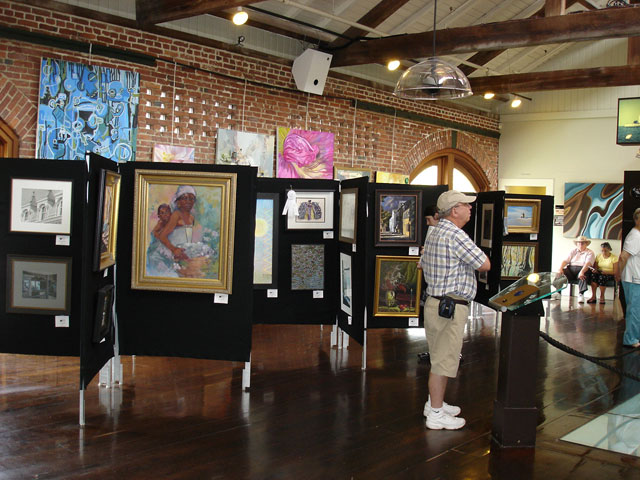 Is this still the old thing that photography is just not worthy to stand up next to a painting/2D? Is this art segregation in the old South? If this was not the intention of the organizers – all the signs were there. Can't we all just get along? Not sure on that one.
This juried opportunity is open to artists from all over South Carolina, and it had some very good works by some of the states' well-known, well-exhibited, and award-winning artists. It also had a lot of good work by artists I've never heard of – which is a good sign for South Carolina. There were some works that I wouldn't have put on display, but without seeing the other 320 works submitted – that's hard to say, but I bet some really good works didn't make the cut. Which is the usual case in a juried show. But fitting 100 works into the space allotted was a disservice to many of these artists. I like the venue of the Visitor Center because many people will view this exhibit, just passing through, but the show no longer gets the space from the Center this exhibition needs. And, like it or not – this show might be the first and only impression of the visual arts in Charleston and of what's being offered during the Piccolo Festival. It's like a gateway exhibit. It should be our best foot forward. This show offered some good glimpses.
There was a time when the Piccolo Spoleto Juried Exhibition was the major visual art attraction of the Piccolo Festival, but after 25 years, it seems a disinherited cousin squeezed into a smaller and smaller space. An exhibit of 50 works would have looked much better in the space. In a better, more expansive space this exhibition could be a major display of some of South Carolina's best works by its best artists – on the level of the 2008 juried exhibition at the SC State Museum in Columbia, SC. After all, the Spoleto and Piccolo Spoleto Festivals are this state's major art events. Why isn't it the major showplace of the state's art creators?
Let's get back to the jurors. Why do you need two jurors to select works for an art show? Shouldn't one well qualified person be able to judge paintings and photography alike? I think they should. In this case each juror was only selecting works in the two separate medias (Photography & Painting/2D) – so you don't even get the advantage of jury by committee – if there is such an advantage. In the past, I think this show even had a third juror to select craft items. I think it's time to try the one juror system. After all – all juried shows are just the results of one person's opinion at that time. One added thought – wouldn't it be nice if all juried shows featuring artists from throughout the state would be juried by an out of state juror? It's not easy jurying a show in an area where you work and live.
By the way, Dr. Leo Twiggs juried the painting/2D works and Stacy Pearsail juried the photography.
So let's see – I didn't like the way the two media were separated and displayed and I don't like the format for the jury system. And, the venue is good, but too little space is given up for this exhibit. How about the artworks – what about them?
Well, this is definitely a show worth the effort to go see – there are some very interesting things to see. It's a good thing I took my own notes as I later realized that the exhibit program only listed the last names of the artists.
I liked works by Bill Buggel, Toni Elkins, Carolyn Epperly, Susan Lenz, Edward Shumes, Amelia Rose Smith, Janet Kozachek, and Kathleen Pompe, but my favorite this day was a painting by Bruce Nellsmith – which was hung a little too high on the wall, but I really liked it. Now in this case I'm not a juror – picking works over others, but like a juror – these selections are works I liked based on my opinions and feelings at the time. A week later and a repositioning of works in the space and I might have a totally different list of works. And hopefully that's the way others viewing the exhibit will look at this exhibit too – picking their favorites.
There were a few other works that stood out. One was a photograph by Chris Tertzagian – it was not framed – no frame at all. I'm sure all works were supposed to be framed. I hope it makes it through the life of the exhibit. Also in looking at the program I noticed a few area codes for a couple of artists' contact numbers were (347), (404), (406) and (603). The 347 code is for New York City, the 404 is for the Atlanta, GA, area, the 406 is for Montana and the 603 is for New Hampshire. I hope these were artists who have moved to SC and still have old cell phone contracts in those states. If not, someone should have wondered why these artists had strange area codes for SC. If these artists pulled the wool over the organizers' eyes – they also screwed real SC artists.
One name I saw at the exhibit took me back a few years – Cheryl Baskins Butler. If this is the same Cheryl, and I'm not sure it is, because she used to do printworks – woodcuts and such, but this was a traditional acrylic painting. If it is the person I hope it is – Cheryl, it's nice to have you back in the area.
So there you go. This show will be on view through June 5, 2009. If you get a chance go see it and see how my opinions stacks up with yours.
I also stopped by the Piccolo Spoleto Outdoor Art Exhibit 2009 in Marion Square, but I didn't have time to check it all out so I can't say much about it other than things seemed to be going well. I heard that some artists were doing really well. Anytime you gather 100 or so artists together you're going to hear a wide spectrum of stories on how things are going but I didn't hear any real complaints – at least not yet. This was before the halfway mark. This show will be there till June 6, 2009, but that doesn't leave a lot of time. So go check this show out too. The Juried Exhibition and the Outdoor Exhibition are within a block of each other.
I talked with Vickie Ellis, one of the show's coordinators and I'm mentioning her name because we talked about blogging and searching people's names and events and how that all works. So for the record that was Victoria Platt Ellis, one of the coordinators of the Piccolo Spoleto Outdoor Art Exhibit 2009. The other coordinator is Billie Sumner.
Tags: Billie Sumner, Charleston Artist Guild, Charleston SC, Charleston Visitor Center, City of Charleston Office of Cultural Affairs, Piccolo Spoleto Festival, Piccolo Spoleto Festival Juried Art Exhibition, Piccolo Spoleto Outdoor Art Exhibit 2009, Spoleto Festival USA, Vickie Ellis, Victoria Platt Ellis