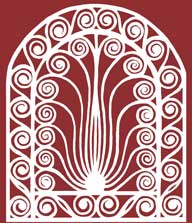 By late Saturday, May 28, 2011, we had the June 2011 issue of Carolina Arts almost in the can, so Sunday morning – after we found out that Linda, my better half wasn't going to have to go in to work on one of her days off, we decided to go down to Charleston and catch a few of the exhibits being presented by Piccolo Spoleto. She was on call Sunday, but because it was a holiday weekend – no one was going to call out on Sunday. You don't get paid the extra holiday pay if you miss the day before. Such is the life of a 911 dispatcher.
We got a good start and found a fairly good parking space by about 10:30am. We didn't expect that the Charleston Farmers Market was going to be operating on Sunday, but I guess everyone wants a piece of the Spoleto/Piccolo action. Money is the mother's milk of the arts and when it comes to selling an opportunity for anyone to get in on the action – the City of Charleston Office of Cultural Affairs, who organizes the Piccolo Spoleto Festival, turns down no opportunity that will put money in their pocket or the pockets of their friends (those special arts groups). I truly expect to see beer vendors roaming the streets of Charleston during the festivals one day. More in character you'll probably see wine vendors as a tie-in with the Charleston Food & Wine Festival.
I can hear them calling now – "Got your chardonnay here!"
So on that morning, we had to vie for parking with 3-4 church congregations, the Farmer's Market crowd and the Piccolo Spoleto Festival crowd for a parking space. But, we did all right.
Actually, I think the Farmer's Market is a plus – they provide the opportunity to purchase readily available food and beverages, with some musical entertainment thrown in. And, I guess every penny the City can generate in vendor fees is less that they'll have to take from taxpayers. Some might think the arts and craft vendors at the Farmer's Market might be competition, but the buyer makes that decision.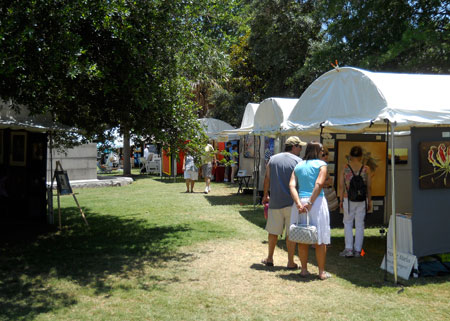 The minute we hit the 2011 Piccolo Spoleto Outdoor Art Exhibit in Marion Square Park, we started to hear how the Office of Cultural Affairs had messed this show up. They have been trying to take total control of this show for years and this year was another bungled attempt at redesigning the show.
To make a long story short, one of the core aspects of this show is that it has had some of the same artists showing in a particular part of the park for years. People who attend the festivals every year know where their favorite artist is located. The artists who have been in certain spots have made close friendships with their neighboring artists.
This year the Office of Cultural Affairs decided that no artists would be "grand-fathered" in and all would have to go through a jury process to get in. What that jury process is and who does it would be one of the biggest blogs I've ever written, but we're not going into that now. So some artists felt unwanted and didn't go through the process. The jury cut was made and then all hell broke loose and some went to Mayor Joe Riley and complained and as usual he undercut his staff and reinstated the artists who had been cut, except for those who made other plans or didn't go through the jury process – they were just screwed – twice.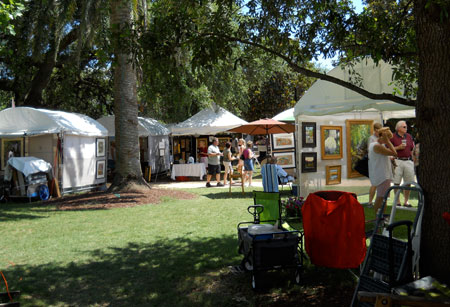 Funny thing – many of the artists who were cut in the jury process won awards from the hand-picked juror Cultural Affairs selected. In fact, the Mayor's Purchase Award was by an artist who was originally cut from the show. Go figure.
On top of that, Cultural Affairs decided to split these established neighborhoods up and shuffled the deck. So, now visitors to the show have to go on a scavenger hunt to find their favorite artists. It's a real mess. No one likes change – especially change that isn't an improvement.
The Office of Cultural Affairs reminds me of the Army Corp. of Engineers. Is there anything they haven't made worse after trying to fix something?
So many of the artists are not happy campers and if this show is another ho hum year, as far as sales go, they are really going to be unhappy. This could be the last year for some – but that's exactly what some people may want.
My suspicion is that the Office of Cultural Affairs, headed up by Ellen Dressler Moryl, has been looking at the Piccolo Spoleto Outdoor Art Exhibitas their future cash cow. I think they envision selling the spaces in the park for $1000 a pop to artists from around the country who would love to be associated with the Spoleto/Piccolo Festivals. They would learn really quickly that visitors to Charleston wouldn't be interested in artwork made in Santa Fe, Carmel, or Sarasota – they want Lowcountry art. But, it might take them a year or two to learn that and there would always be a new crop of unknowing artists willing to put up a $1000 for the opportunity. The catch is – Mayor Riley promised the local art community that Piccolo would be for them, but the festival has had mission creep in becoming a regional affair – some participants come from way beyond our region.
Now, I'm not saying that this show doesn't have it's problems and couldn't use some shaking up – there is a lot of repetition – artists painting the same landscapes and wildlife scenes. But instead of trying to tear down long standing traditions, why doesn't Cultural Affairs start a new outdoor art venue – maybe one for emerging artists, just on weekends and in a way that the artists don't have to make such an investment. Those tents are expensive.
If out-of-state visual artists want a crack at the Festival, set them up in Hampton Park or Liberty Park by the SC Aquarium – the hottest spot in town. But stop messing with the Outdoor Art Exhibit.
It has been rumored that Ellen Dressler Moryl will soon retire and then turn around and become a paid contractor to manage Piccolo Spoleto. What a sweet deal for her. But unless the City is planning on sub-contracting out the whole Office of Cultural Affairs – I can't see a new head of Cultural Affairs putting up with their biggest plum being outsourced. And, why should the City pay her when she's not an employee of the City – as far as I know, they don't pay any of the coordinators who really organize most of the Festival. And, what would Cultural Affairs be doing this time of year if they are not managing the Festival?
Anyhoo – Linda and I spent six hours in both Marion Square and over at Wragg Square at the 2011 Piccolo Spoleto Crafts Fair. I didn't hear any complaints over at the Crafts Fair, but I knew there were some, but the kind that can't be helped – at least overnight. One corner of that park is in open sunlight and it was 20 degrees hotter in that section and it was already hot enough that day. I felt sorry for the artists in that section, but trees don't grow over night. But it's better than the old days.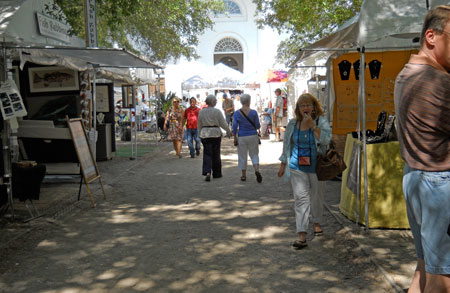 The first Piccolo Spoleto Crafts Fair we went to, way back when, was at Marion Square Park in the open sun under a huge olive green Army tent. It was hotter under that tent than outside. I'd take Wragg Square any day over any of the other locations this fair has been in – other than the Gaillard Auditorium – that was a good location (inside and air-conditioned), but Spoleto doesn't like to share.
We saw lots of good art, had a lot of great conversations – it wasn't all bitching and when it was over we were really amazed that we had spent six hours there. Of course one hour was taken up by me being a stand-in for a model who didn't show up for a portrait demo that Steven Jordan was giving.
I had my portrait done by Steven Jordan, The Painter of Bud Light, at Piccolo Spoleto. Now how many people can say that? It's not finished but we hope to have the final version to show off soon.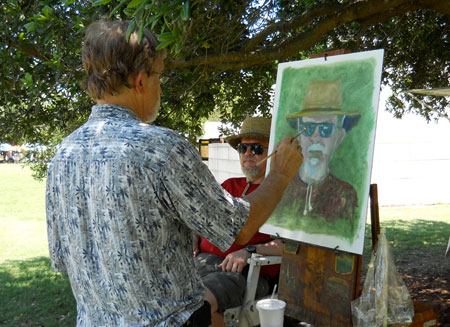 We also learned that a lot of people in the park didn't know that Carolina Arts had gone totally online, which is good and bad. Many are in that camp like to hold something in their hands when they read, but it was also a good thing since many will now be checking us out online. And, we're not complaining these days as we had over 61,000 people download our May 2011 issue.
The 2011 Piccolo Spoleto Outdoor Art Exhibit will go on through June 11, from 10am-6pm and the next 2011 Piccolo Spoleto Crafts Fair will take place June 3-5, Fri. & Sat., 10am-6pm and Sun. 11am-5pm. Both shows offer demonstrations by participating artists. Go down and take a look at all the interesting art being offered and buy something.
Social Media and the Outdoor Art Exhibit
You can keep up with the 2011 Piccolo Spoleto Outdoor Art Exhibit with blogs and Facebook. For years Amelia (Mimi) Whaley has been blogging daily from the park on her personal blog (http://www.mimispaintingaday.blogspot.com/) starting after the first day of the festival. This year she has set up a Piccolo Spoleto Outdoor Art Exhibit group blog (http://psoaeblog.blogspot.com/) where several people will be adding their observations from the park. You can even log onto theOutdoor Art Exhibit's Facebook page at this link (http://www.facebook.com/pages/Piccolo-Spoleto-Outdoor-Art-Exhibit-2011/154715674583540).
It was a pretty good day away from our computers, but on the drive home I saw something very disturbing. On I-26, between Cosgrove Avenue and the Montague Avenue exit, there were six billboard signs in a row promoting McDonald's frozen strawberry lemonade drink. Six billboards needed to show a lemon and a strawberry coming together to make one drink. That's insane.
I hate billboards, but I realize some are informative to travelers, but this is not information – this was insane. Are people that stupid that they don't know what you would get when you put lemons and strawberries together in a drink?
I drive into McDonald's on occasion, but I won't be doing it while those six billboards are there.
Now, if someone knows the phone number to the numb-nut who is in charge of McDonald's advertising – we'd be happy to sell them an ad on every one of our pages – of every issue. Just think what a statement that would make. But don't wait for it. We don't let anyone advertise whatever they like in our papers. It has cost us at times, but anything and everything doesn't go at Carolina Arts.