It should be no secret to any follower of Carolina Arts that I'm a big fan of Brian Rutenberg – we have featured his work on our cover twice – in full color and I have tried to make sure people always know when he has an exhibit in the Carolinas. I'm also a big fan of abstract art and Rutenberg's work sings to my soul.


Blue Point
A few months ago on one of my daily trips to the post office to get the mail a large package was there and I wasn't expecting a thing that large in the mail. When I opened it – it was an amazing book of Rutenberg's work – I was blown away by it, but the big news came a few days later when I attended a gathering of folks involved in the visual arts at the Gibbes Museum of Art in downtown Charleston. Someone from the Gibbes was handing out a little flyer of upcoming exhibits planned for the Gibbes – interesting news as they don't seem to release much info about upcoming exhibits – at least to me. As I scanned down the list I saw that Rutenberg was having an exhibit there in Oct. 09. It was hard to concentrate on the meeting after that.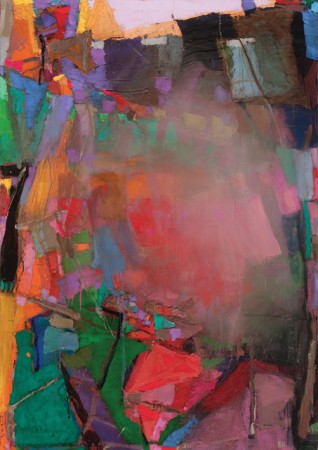 Fading #6
So why all the excitement for Rutenberg? Well, first I think he is very good and second, he is a SC native who has made it big and it's my opinion that he will get even bigger as time goes by. I said in my editorial commentary in the Oct. 09 issue of Carolina Arts – he could be SC's next Jasper Johns. The other thing I like about Rutenberg is that although he has made it big in bigger places – he still brings his work home to SC and the Carolinas.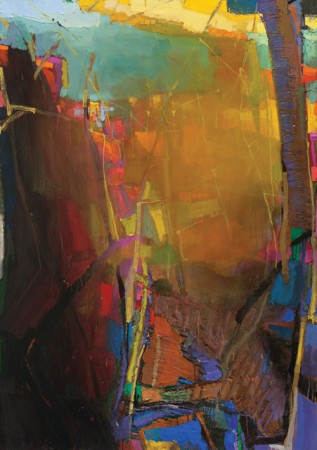 Fading #2
So I hope – if you can – you'll go hear the lecture, buy the book and later visit the exhibition. See if I have good taste.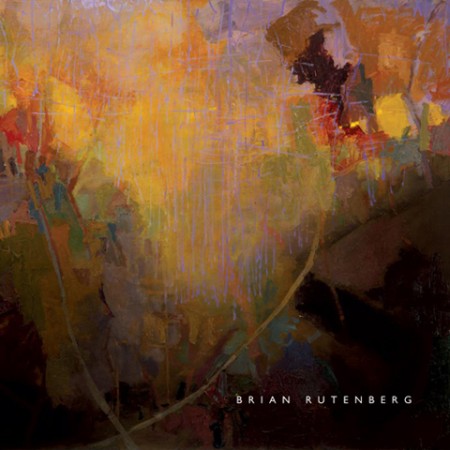 Here's a press release about the event:
The Gibbes Museum of Art in Charleston, SC, will offer an artist talk and book signing by Brian Rutenberg on Oct. 21, 2009, at 6pm. Abstract artist Brian Rutenberg will host a discussion about his upcoming solo exhibitionBrian Rutenberg: Tidesong on view from Oct. 23, 2009 through Jan. 10, 2010. Rutenberg will talk about his process and inspiration and will welcome questions from the audience.
A book signing of Brian Rutenberg, the first ever major monograph on the artist's paintings and drawings, will be held immediately following the lecture. The artist talk and book signing is free for museum members and $10 for non-members. Tickets can be purchased at the door or online at (www.gibbesmuseum.org/events).
The exhibition was organized by the Jerald Melberg Gallery in Charlotte, NC. Inspired by the landscape and waterways of his home state, Rutenberg's work combines brilliant color with expressive brushwork to create visually stunning abstract paintings. Tidesong includes recent paintings on canvas and works on paper that explore the artist's fascination with the landscape and quality of light along the South Carolina coast.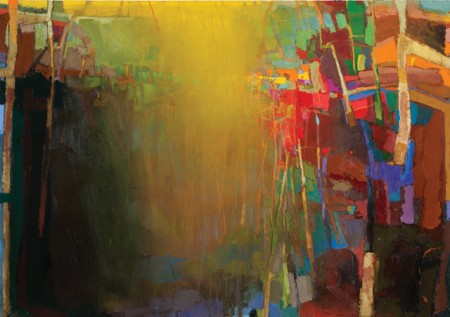 Fading #3
Reflecting on his work, Rutenberg has said, "My imagination was in large part formed by my childhood experience growing up in the Lowcountry of South Carolina from Myrtle Beach down to Charleston and to this day I still use that sense of light and that geography as kind of a springboard, as a starting point for the work even though the work does not end up being about the Lowcountry or anything down there. There's a certain kind of light down there when you're around a lot of water. It's like a silvery, blue light that permeates everything. It can be melancholic. It can be joyful. It can be many, many different facets, and I try to get that feeling of light."
A South Carolina native, Rutenberg received a BFA from the College of Charleston and an MFA from the School of Visual Arts in New York City. Since 1985, Rutenberg has been honored with over 100 gallery and museum exhibitions across the United States, including a retrospective in 2006 at the South Carolina State Museum in Columbia, SC. The artist lives in New York City with his wife and two children.
Established as the Carolina Art Association in 1858, the Gibbes Museum of Art opened its doors to the public in 1905. Located in Charleston's historic district, the Gibbes houses a premier collection of over 10,000 works, principally American with a Charleston or Southern connection, and presents special exhibitions throughout the year. In addition, the museum offers an extensive complement of public programming and educational outreach initiatives that serve the community by stimulating creative expression and improving the region's superb quality of life.
For further info call the Museum at 843/722-2706 or visit (www.gibbesmuseum.org).
Tags: Brian Rutenberg, Brian Rutenberg: Tidesong, Charleston SC, Charlotte NC, Gibbes Museum of Art, Jerald Melberg Gallery, Myrtle Beach SC