Well, the wintery weather continued on Saturday Dec. 12, 2009, so Linda and I traveled to downtown Charleston, SC, to see some exhibits that she and I did not have a chance to see when they first started. Our son decided to skip this trip – two days away from the XBox 360 and his computer was just too much.
Dec. 12 – that's deadline day at Carolina Arts. How could we be away from our computers on that day? Well, unlike some of the people who wait until the last minute to send us their info – we had already processed all the info we had received and the 12th for us is usually a day of waiting for the 5pm deadline to come – checking e-mail every other hour. We decided our day would be better spent going to see some exhibits before it was too late. And, unfortunately, our Jan. 2010 issue was going to be smaller than issues in 2009. It woudn't take that long to put together.
Our first stop was the Gibbes Museum of Art in downtown Charleston – after a few trips around the neighborhood looking for a parking space. We both were dying to see the exhibit, Brian Rutenberg: Tidesong, on view in the Gibbes' Main Gallery through Jan. 10, 2010. There was no better day to go than one of the free admission Community Days, sponsored by the Junior League of Charleston. (Read an article about this exhibit at Carolina Arts at this link.)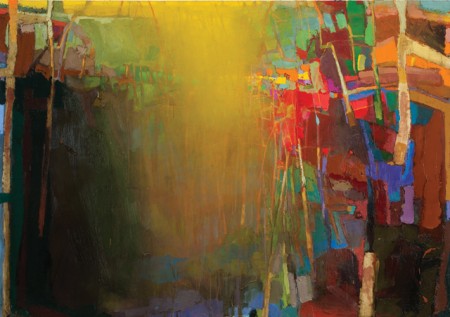 Fading #3
The place was packed with lots of children and parents as there were many school groups performing there that day and many art activities were being offered by the Gibbes – so I guess parents could view the exhibits, but I don't think the children were letting their parents get too far away from viewing them – either performing or making art. Look mom – look dad – I'm making art! And, who knows, maybe one day that child will become an artist who has their work shown on the walls at the Gibbes. Look at Brian Rutenberg – I'm sure his parents made trips to the Gibbes from Myrtle Beach, SC. And, I'm sure he came to the Gibbes when he was a student at the College of Charleston. He may have wondered if his works would ever be shown there and here they are and man, the walls of the Gibbes come alive with his works – a few were thirteen feet wide. Not many artists can do justice to those walls in the Gibbes' Main Gallery.
This exhibition was organized by the Jerald Melberg Gallery in Charlotte, NC, where they represent Rutenberg in the Carolinas, if not the Southeast. So, if you're a fan of Rutenberg's – that's where you can see more of his work – that's where you can buy his work. But, I'm sure if you see something in this exhibit you can't live without and you've been a very good person this year and Santa has you on his A-list – the Gibbes can put you in touch with the gallery or you can just contact them. Here's a link.
A lot of folks don't know that works on display by most contemporary artists (meaning a living artist) in Museums can be purchased. As long as they are not already on loan by some owner or in a traveling exhibit, and even then, you can probably buy it – you just may have to wait a year or so before you can take it home.
While we were there gazing at one of the thirteen footers, Pavillion, 2008-09, one of the Gibbes staff members or volunteers came up to us and asked if we liked abstract art. A valid question, but in my mind I'm thinking – do I like abstract art – doesn't she know who I am? Then when my bubble popped and I came back down to earth – I said yes – we like it a lot. And, of course the next logical question offered is do we know Brian Rutenberg's work or are we familiar with his work? Again, my mind was spinning like crazy with witty replys, but just answered – yes we are. After a few more questions I introduced ourselves – avoided saying something funny.
A lot of folks don't like or just don't get abstract art, so these were questions worth asking to visitors – it gives the staff/volunteer an opportunity to educate the viewer or open them up to looking at the work with a new perspective. She was preachin' to the choir when it came to us and she soon moved on. But these free Community Days attract a lot of folks who may have never paid to come to the Gibbes or don't come that often – so it is a teaching opportunity. And, most folks wouldn't expect that regular members of the Museum or the owners of an arts newspaper would come on a free day, but then they might not realize the poor state of newspaper publishing these days.
By now you might be thinking – when is he going to talk about the art? But again, like with the Ansel Adams' photographs I talked about in my previous blog entry – I just don't have the words to describe Rutenberg's works. All I can say is, if you  have not seen his work before and you like abstract work – go see this exhibit. Even if you're not a big fan of abstract work – here is an exhibit that could change your mind.
One interesting factor about going to see this exhibit on this particular day was getting to overhear some other people's comments. One was about the dates on a few of the larger paintings which read (2008-09). They were wondering how long it took Rutenberg to do these works. For one thing Rutenberg works in oils – a slow drying medium. Some of these works had several inches of paint stacked up off the face of the canvas. So I'm sure with works that large and with that much paint on them, they had to be done over a period of time (maybe a year) – giving the layers of colors time to dry. He probably works on several of these large canvases at a time – going back and forth from one to the other. Usually at an exhibit's reception or opening most of what you hear is about the food and drink and people wondering how much a painting cost and how someone who is listed as having a work on loan could afford it. You can hear conversation about just about anything else but art at a reception. I liked the conversations I was hearing bits and pieces of that day better. It was about the artwork and the artist.
Go see this exhibit, ask questions and listen to what other people are saying – there are no stupid questions in art. Well, sure there are, but we all have to be stupid at some point to learn something. I'm stupid all the time, but I'm getting less stupid all the time too.
If you want to learn more about Brian Rutenberg the Gibbes' Museum Shop will sell you a copy of, Brian Rutenberg: The Sensation of Place, the first ever major monograph on the artist's paintings and drawings. A copy was also sitting on a bench in the middle of the Main Gallery for visitors to look through.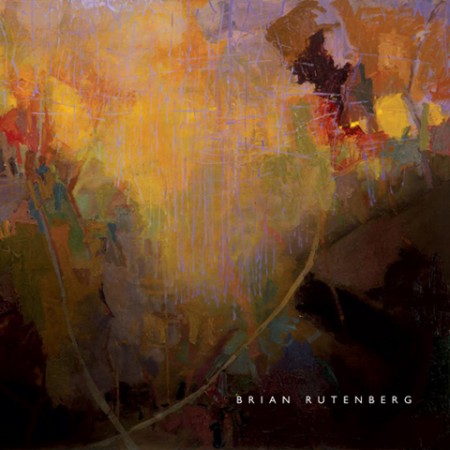 The book
OK, our next stop was at Nina Liu and Friends gallery in Charleston's French Quarter, an area totally made up for marketing an art walk in Charleston. Nina Liu has an exhibit up called, Creatures Large and Small, on view through Jan. 31, 2010. This exhibit features paintings and ceramics by artists from around the country including works by Pat Benard, John Davis, Diane Gilbert, Jeff Kopish, Susie Miller Simon, Cynthia Tollefsrud, and  Aggie Zed.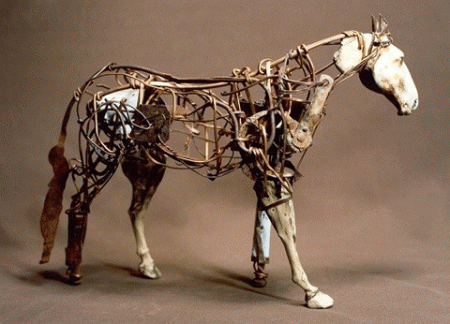 A work by Aggie Zed which may not be in the exhibit
We did more talking here than looking to write about, but if you're into creatures, you couldn't do better than the pieces by Aggie Zed. And, for fans of Cynthia Tollefsrud, there were a couple of small paintings there that won't be available for long – that is if you're looking to buy – her works sells fast. Plus there are lots of other interesting works in the exhibit, besides all the usual items carried there.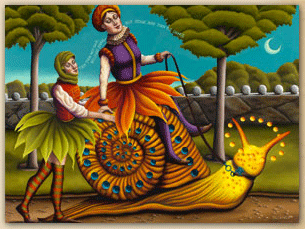 A work by Cynthis Tollefsrud which may not be in the exhibit
Nina Liu was supposed to be long gone from Charleston by now, she was planning to sell her gallery/home and move down to her new home in Merida, Mexico – of course that was before the real estate market fell apart. She was slowly closing down the gallery operation and then had to start it back up again. If someone wanted to open a gallery in Charleston's gallery district with a home to live in too – this is a great opportunity. For details by interested parties call 843/722-2724.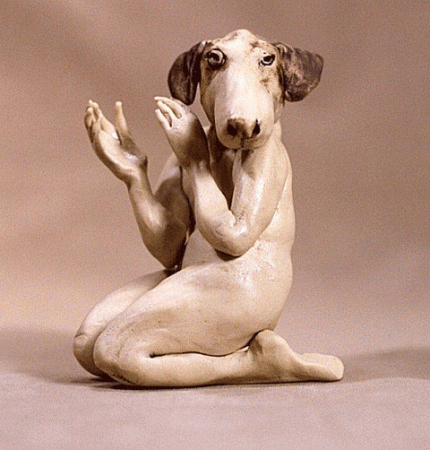 A work by Aggie Zed which may not be in the exhibit
So for all the folks who may have heard last year that Nina Liu and Friends was closing – she's still open and the gallery is full of all the same interesting work you have always come to expect. But, she won't mind selling tomorrow if a buyer should come forth, but until then – it's business as usual.
Last stop on our art tour was the new Halsey Institute of Contemporary Art, at The Marion and Wayland H. Cato Jr. Center for the Arts, at the College of Charleston. The first exhibit presented is, Aldwyth: work v. / work n. Collage and Assemblage, 1991-2009, on view through Jan. 9, 2010. This is the first of many events celebrating the School of the Arts' 20th Anniversary, and it's the inaugural event in the new building. (You can read an article about this exhibit at this link.
The exhibit curated by Mark Sloan is exactly what we have come to expect from him – an exceptional display of unbelievable art created by someone who is driven to an extreme in their creativity – and on the funky side. And, that is exactly how I would describe the work made by the artist Aldwyth, a woman in her 70′s who lives on St. Helena Island, near Beaufort, SC.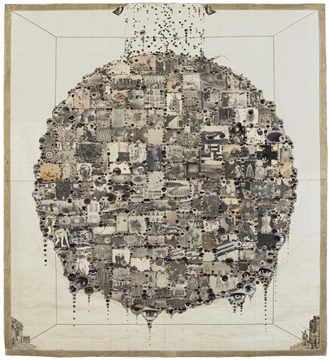 Casablanca (classic version), 2003—6, collage on Okarawa paper with silk tissue, 78.5″ x 71″*
Carolina Arts first reported on this exhibit when it was at the Ackland Art Museum at UNC – Chapel Hill, in Chapel Hill, NC.
Again, my words would fail to adequately describe this work, but the title says it all – Aldwyth: work v. / work n. Collage and Assemblage. Aldwyth's creations are – whether large or small – elaborate collages of items assembled – lots of items – eyes, faces, tiny hands, numbers, you name it. The collages tell stories – some are plain to see and others are very deep – too deep for me to figure out.
It is hard to imagine how much time this artist spends searching through books, magazines, manuals – any printed materials looking for images of faces, eyes, objects, phrases – to cut out and assemble into one of her collages. The word work is definitely a verb to this artist.
The large wall collages are massive – filled with information for the eye and brain – almost information overload.
There were a series of cigar boxes which except for the shape of the box, Aldwyth had transformed into little worlds about a certain subject. Every inch of the box is covered with items from other purposes or functions to create another receptacle for a number of related or unrelated objects – it was hard to tell at times. You could spend hours trying to figure out each box.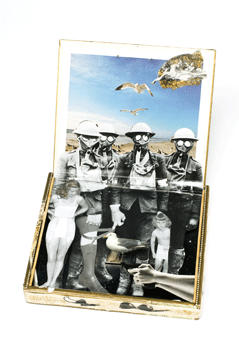 Cigar Box Encyclopedia-Letter G, 2000, collage, found objects, various sizes*
One room in the gallery was presented as an installation – a gathering of objects made of numerous other parts and pieces of other objects – all collages and assemblages of more found, cut out, or collected objects. You get the idea that this artist is not satisfied with anything – the way it is.
My overall impression was to just be overwhelmed as to how much time and thought this artist must spend on each of her creations. It's not hard to believe that this exhibit was being produced over the last 18 years.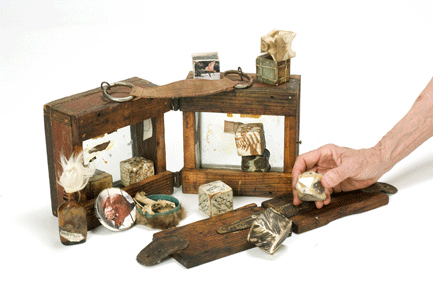 A Walk in the Woods, 1990, things picked up while a visiting artist on Spring Island, SC, 8″ x 7″ x 7″*
I'm not usually a fan of assembly art. I tend to think of it as objects or piles of objects – new or found – as something put together by a person with no other real artistic talents, but in this case you just have to appreciate the artist's efforts to get her message across – whether you get that message or not. I would consider her a master at her craft. I haven't seen anything like it in my 20 plus years covering the visual art community in the Carolinas. That's not saying much on a world scale, over the history of art, but I found it impressive and I'm not easily impressed. In bigger cities and other countries – artists like Aldwyth could be a dime a dozen, but I doubt it – or she wouldn't have impressed Mark Sloan, who I'm sure has seen much more than I have.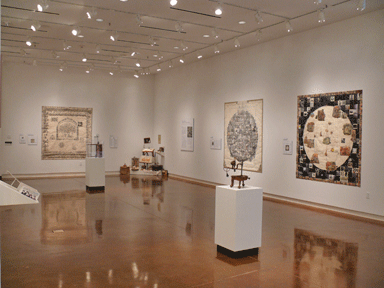 View of gallery*
No matter what your tastes in art are I would say this is a must see exhibit. In fact, I would say it's probably a must see – several times exhibit. I hardly feel the time I spent looking at the works shows enough respect to the artist. It's not as if I feel a responsibility to see all art artists create, but I hope to see this exhibit again. Like a complex movie – the second and third time you see it you pick up so much more information that you missed in the first viewing.
The new gallery space is larger than the old Halsey Gallery, with many new additions, including a reference library, a video viewing room, and all on one level. The reception hall is expansive and I'm sure it will be filled with each new exhibit. But, even on a dreary Saturday afternoon we had to drive around looking for a parking space and ended up a ways from the gallery, but that's expected in Charleston. There are parking garages not too far down the street from the gallery in several directions.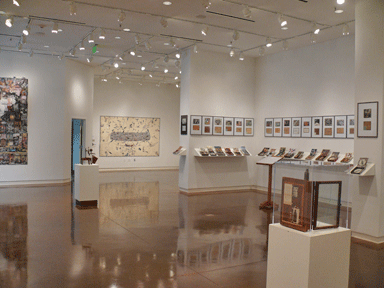 View of gallery space*
You can see more images of the gallery space and this exhibit at this link.
The Halsey Institute of Contemporary Art will be closed during the College of Charleston holiday break Dec. 26 – Jan. 2, 2010. If you miss it in Charleston, the exhibit will move on to Jepson Center @ The Telfair Museum of Art in Savannah, GA, on view from Feb. 10 – May 17, 2010.
On Jan. 9, 2010, from 1-4pm, the College of Charleston's School of the Arts will celebrate the grand opening of its new building the Marion and Wayland H. Cato Jr. Center for the Arts, 161 Calhoun Street (Calhoun at St. Philip Street). The community is invited to explore all five floors of the $27.2 million building while enjoying sweets and mini-presentations of music, theatre, dance and other events. Guests will also enjoy the final day of an exhibition of works by Aldwyth, in the Halsey Institute. This esteemed artist will give a lecture at 2pm in the Recital Hall of the Simons Center for the Arts, adjacent to the new building.
*All photos of Aldwyth's works were taken by Rick Rhodes and are courtesy of the artist and the Halsey Institute of Contemporary Art.
There was another exhibit up in the reception hall entitled, Illuminating Pages, part of a class project I guess, but it's one of the problems at the College – they have a habit of not putting too much effort into publicizing internal exhibits – like student work. Just being at the Simons Center every month delivering papers I've seen many a student show which I'm sure most of the community was never aware of – offering some good work at times. They should put as much effort into letting people know about these shows as they do the Halsey Institute of Contemporary Art exhibits. Like I said earlier, a former C of C art student, Brian Rutenberg, is now being featured at the Gibbes Museum of Art and all over this country. So, you never know who the next super stars of the art world will be.
Well, it was quite a couple of days of viewing art – quite a variety too, but it's always enjoyable when that happens, as it doesn't happen that often. When you do an arts newspaper it's kind of like being a shoemaker – you don't get to walk around so much.