I received this e-mail from the SC Arts Commission today about a call for artists to submit works for an "art auction" to be held during this year's gala celebrating the Elizabeth O'Neill Verner Governor's Awards. In the past, at least to my memory, there has been an art sale of selected works during the gala – with the idea of giving SC's visual artists exposure to the high end audience attending this gala, but now SC's artists are being presented with another auction opportunity. This is not quite the same opportunity as a sale – even though in the past – artists were asked to place a lower than normal price on their works.
I'm not making a judgment here – I'm just pointing out the difference from past opportunities compared to this one. We're lucky a public call is being made at all, since that was not always the policy – select artists were just invited to participate in the past.
And, again, I appreciate the Art Commission sending me this notice (It's nice to be back on the media list.) so I can turn it over to my readers, but I hope they don't mind the extra historical info provided. It may be more than they get with other media outlets, but that's what you get with Carolina Arts – a wealth of history about the region's visual arts. You can see details about the auction at the link offered by the Foundation – they're very up front about this opportunity.
Here's the press release:
S.C. ARTS FOUNDATION SEEKS ARTWORK FOR 2010 SOUTH CAROLINA ART AUCTION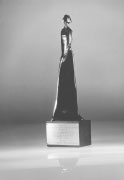 Verner Award
COLUMBIA, S.C. – The South Carolina Arts Foundation seeks excellent quality artwork to include in the South Carolina Art Auction, the centerpiece of the 2010 South Carolina Arts Gala, an evening celebration of the Elizabeth O'Neill Verner Governor's Awards for the Arts on Thursday, May 6 at the Columbia Museum of Art. Interested artists should submit the following by Feb. 22 to Art Auction, S.C. Arts Foundation, 1800 Gervais Street, Columbia, S.C., 29201:
- DVD or CD-ROM containing up to 10 images in a jpeg format with a maximum resolution at or less than 1024 x 768 pixels of representative or available works.
– Checklist including title, date, medium, size and price
– Resume or bio
– Artist statement (not to exceed 250 words)
– Self-addressed stamped envelope for return of materials
Additional submission guidelines are available at (www.SouthCarolinaArts.com/verner/call.shtml) or by calling 803/734-8696. A panel composed of members of the S.C. Arts Foundation and arts professionals will select the artwork for the auction. For more information, contact Harriett Green, 803/734-8762 or e-mail at (hgreen@arts.sc.gov).
About SCAF
Established in 1972, the S.C. Arts Foundation is a nonprofit organization dedicated to recognizing, encouraging and supporting the art and artists of South Carolina. Throughout its history, the SCAF has pursued creative ways to help the business community and private citizens contribute to a thriving arts community across the state. The organization is led by a diverse board of directors comprised of statewide business and civic leaders, artists, educators and others interested in supporting the rich variety of artistic expression found in the Palmetto State. For more information, visit (www.SouthCarolinaArts.com/Foundation) or call 803/734-8696.
Tags: Columbia Museum of Art, Columbia SC, Elizabeth O'Neill Verner Governor's Awards, SC Arts Commission, SC Arts Foundation