The title of this entry could be – Old School Photography at the College of Charleston's School of the Arts, but I don't know how to do a subtitle or if you can do a subtitle in WordPress.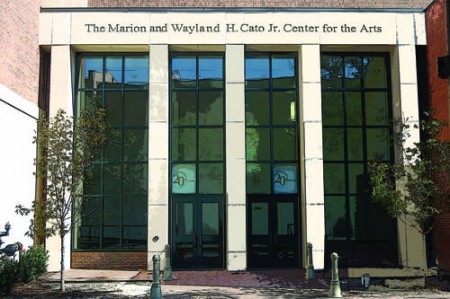 It was a cold day to drive down to Charleston to attend an open house for a new arts center (the high for the day was 36), but after reading a story in The Post & Courier about a reception for the Cato family on Friday – it was the first time I had read details about the center and what we would find there – what I read sealed the deal. So we (Linda and I) went despite the cold. I mean it's been cold – too cold for sunny South Carolina – even for this old Yankee.
We first had lunch with our goddaughter, Zelda Ravenel, previously known as Emma Ravenel in this blog, but I have granted her an unofficial name change by request – so will from now on refer to her as Zelda. She's a recent graduate of the Savannah School of Art and Design in Savannah, GA, in Sequential Arts (animation), and much like our son Andrew – a recent graduate of the College of Charleston in Geology, has yet to find a job in her field.. If anyone knows of any opportunities – contact us – please.
Anyway, I was happy to learn that Zelda's plans had changed and she could go to the art center opening with us after all. It's always nice to have her young perspective on the arts. Our eyes and minds (Linda and mine) are a little generationally challenged. I'd say more grounded in reality, but young folks would say – so old-school or outdated. Whatever – I think there is room for both views when tackling today's challenges for the arts world.
So, after a lunch – West of the Ashely – we headed to downtown Charleston. That's right folks, West Ashley, as some call it, is not another town – it's a part of the City of Charleston. And, as usual, it took some time driving around the College of Charleston before we found a parking space. As cold as it was there seemed to be a lot of folks walking around Charleston. I hope they were buying something – buying art would've been great.
On the first floor of the five story building we revisited the exhibit, Aldwyth: Work V. / Work N. Collage and Assemblage, 1991-2009, on its last day in Charleston. I've stated my feeling on this exhibit in previous entries and Zelda gave it a thumbs up. There we ran into Michael Haga, Assistant Dean at the School of the Arts, who teaches there and is a long-time friend. He also taught our son Art History. Haga gave us his must see highlights and as a true supporter of the School of the Arts when asked if he knew when the new science center at the College would open – he said sometime, but today was the real important opening. What a party-line player.
Well, after some hot chocolate and a chocolate-chip cookie on the first floor reception area, we headed up to the third floor – represented by the Theatre and Dance Departments to see if John Olbrych would be there. We found his new office space, but no sign of him. Olbrych was the first person featured on the cover of our July 1987 issue of Charleston Arts – our first arts newspaper. Not our first newspaper as Linda and I did a stint producing the Congaree Chronicle, a monthly newspaper for SC's Sierra Club – way back when, and I had co-authored the Glass Onion, an underground newspaper, back in high school with longtime and still friend – James M Wichlacz – brother Jim. And, now we both do Carolina Arts.
Volume 1, Issue 1 of Charleston Arts opened with an interview with Olbrych – South Carolina's Man Behind the Scenes. At that time, Olbrych had been the Resident Designer and Professor at the College since 1979 – that's 31 years now. How time flies.
We checked everything out on all floors and all was impressive – there's just something about a brand new facility. Most of the rooms seemed fairly sparse – yet to have that moved in character – which will come much later I'm sure. If anything a few faculty offices looked well moved in. And, we already talked about the new art gallery.
We checked out the views of Charleston's skyline on the fourth floor in the painting studios, a huge cavernous space – with windows that started five feet up from the floor? I explained to Zelda why the windows had to be placed so high up – unstable artists – some have been known to cut their ears off in frustration. That got me a punch in the arm.
What surprised me the most about The Marion and Wayland H. Cato Jr. Center for the Arts was found on the fifth floor, the home of the new photography facilities at the School of the Arts. Yes, the digital photography room was impressive with wall to wall Apple computers with extremely large monitors, large digital printers and scanners, but it was the "old school" darkroom facilities that got our attention. Zelda's into old school photography too. This was totally unexpected. It wasn't just a token darkroom – this was a blast from the past. This could have been a facility at the Eastman School of Photography – back in 1970. The only thing I missed was the smell of an old darkroom – this facility had state-of-the-art ventilation. Be assured moms and dads of photography students at the College of Charleston – your children won't be losing too many brain cells to toxic chemicals. Well, not as much as it would have been in the old days. But you need to get some of those chemicals in your blood to be a really good photographer.
Standing in these rooms I felt like mixing up some D-76 developer, fixer and stop bath and running a few rolls of black and white film.
Linda and I have quite a photography history in Charleston. When I first came to Charleston in 1974 one of my first jobs was selling 35mm cameras at Sam Solomon's, then I went to work at Howard R. Jacobs, a full service camera store, photo supply, and photo processing lab – that's where Linda and I first met. Later, she went to work in the photo lab at the Medical University in Charleston and I went to work for Pro Foto, a custom B&W and color photo lab with photo supplies. We did the first color Cibachromes in Charleston at Pro Foto. After that, Linda and I opened our own custom B&W photo lab called IF Labs which we ran for 16 years. We even opened one of the first fine art photography galleries in Charleston with a few friends – Photogallery. At one time I ran the South Carolina Photographer's Guild. So, old school photography was in our blood.
Linda was a master custom black and white printer, who could do spotting on prints like a master art restorer, and I was a wizard at B&W film processing. I could process a 5-reel and 4-reel stainless steel tank – both at the same time. Good old days.
I've been in the old darkroom, a converted bathroom, at the Simons Center for the Arts and this will be a major step up for students.
We ran into Michelle Van Parys who teaches Photography at the School of the Arts in the darkroom area and I expressed how impressed I was and surprised to see this much emphasis on the old ways of processing prints and film. I told her a story of one day sitting in one of our old galleries, when a graduate from the Savannah School of Art and Design came in to show me her photography portfolio. She had some pretty nice images, but all were printed on Xerox paper. I asked if she ever printed on "real" photographic papers and she explained that her professors were not into the old ways of photo processing. I told her what a shame that was in that some of these images would look so much better on photo paper – not just paper.
Of course today, with new technologies and materials – the quality of digital cameras, inkjet printers, printing papers and inks are so much better – digital photography is great. It's no longer debatable that the old ways are better – even though some still want to fight that fight. I've seen digital prints that could never have looked so good made the old way, but like William Halsey (the man the Halsey Institute of Contemporary Art is named after) once told me – in arts education, it's best to learn the old ways before you start to break away from them – not start out that way. And, I believe that too.
So, its amazing to see the School of the Arts put so much into these new darkroom facilities, but even then there were shortfalls. Some of the accessory equipment is "cheap" – all they could afford or find. Plastic and bamboo where stainless steel and glass was the norm. The good stuff – even if you could find a supplier these days would be cost prohibitive and might soon disappear – for future darkrooms – off campus.  It's too bad.
Unfortunately our state of the art darkroom equipment was lost in a fire shortly after we retired from photo processing and insurance didn't cover much of it. We also lost most of our collection of personal photography in that fire too – insurance covered none of it. It's not a subject I like to talk about – emotions run high when I even think about it.
A few years back I found some of our old equipment that survived and made a donation to the darkroom at the Redux Center for Contemporary Art. If I find any more I might take it over to the new facilities at the College of Charleston.
Here's a suggestion to any old school photographers (or their spouses who would like to clean up) who no longer use any of their old darkroom equipment – you could get it out of the closet and give it to the College – they don't need enlargers – they have plenty of new ones, but they could use stainless steel film processing tanks and film reels, stainless steel tonges, film clips and weights, etc. You might want to give them a call (Michelle Van Parys at 843/953-7653 or e-mail at vanparysm@cofc.edu) to see if they need or want anything you have first, but it would be a better use for it than collecting dust – that's if you've gone digital. If you're still using it – march on, but if not – think about giving a new photographer a chance to hold some of the real stuff – from way back when.
Another observation – the lighting or portrait studio was too small and the backdrops were hung too low and I didn't see any electronic lighting equipment – just old – very old school, light bulbs and lighting cones. I hope they will eventually have better equipment than that. What they have will teach students about lighting, but that's a heck of a way to learn – and someone's gonna get burned eventually – I know I did many a time. They might want to think about moving that studio down to the fourth floor where there are what looks like 20 ft. ceilings.
After all, they are competing with the Art Institute of Charleston and the Charleston Center for Photography for photography education these days.
I also got dripped on from a leak in the ceiling outside that lighting studio on the fifth floor – not good for a brand new building. Hopefully it's just a small leak in the sprinkler system – not the roof. But I'm sure someone was on that early Monday morning – if not sooner.
It will be interesting to see the next student photography exhibit at the College to see if these new facilities produce improved results – not to say the results haven't been good, but there won't be room for excuses about lame facilities anymore.
The new Halsey Institute of Contemporary Art has already seen the rewards of new digs as the Spoleto Festival USA has now taken them under their wing as a visual art venue for the big festival. A step in the right direction, but still short of making the visual arts a full fledged partner in the arts festival. Maybe one day Spoleto will be back in the visual arts biz. Anything's possible.
Tags: Aldwyth, Aldwyth: Work V. / Work N. Collage and Assemblage 1991-, Charleston SC, College of Charleston, College of Charleston's School of the Arts, Halsey Institute of Contemporary Art, The Marion and Wayland H. Cato Jr. Center for the Arts