This might be a first in the Carolina art community, but it probably won't be the last if it turns out to be a successful fundraiser. I like it a lot better than the standard art auction idea. And, I have a suggestion. Maybe the art community should produce an annual calendar featuring nude directors of charities which produce art auctions as a fundraiser. Fair is fair.
So here's the press release: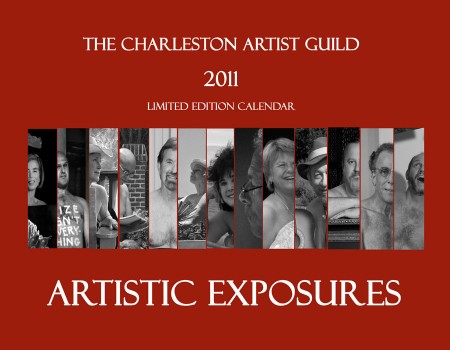 Artist members of the Charleston Artist Guild have just completed their 2011 limited edition fundraiser calendar entitled "Artistic Exposures"! This will be a first of its kind published calendar from any local artist group. Thirteen highly spirited artists bare body, art and soul for a good cause. Calendars will be up for sale during the April members meeting at $20 each and can be signed by calendar participants during a public signing event held on May 7, 2010, at East Bay Meeting House, from 6 – 9pm (next door to the gallery), or purchased at the gallery during open hours at 160 East Bay Street, Suite 102, or order by calling 843/722-2425.
Gazie Nagle proposed and had undertaken the calendar project last April, 2009. "We are now ready to rock and roll!" says Nagle. "Thanks go to our listed and private sponsors who made this happen." Each of the participating artists was given carte blanche for choosing their own pose, location, art work and photographer. It includes artists from Alterman to Wendelin and features both men and women.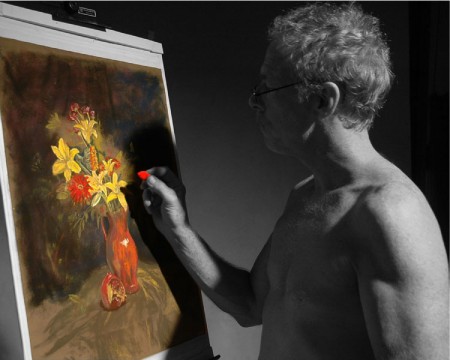 Here's one of the images offered.
There's a story behind each staging process and all the artists were willing to join in the fun. Each artist came up with a tongue-in-cheek caption for their own photograph. Art work in full color is supposed to be the main focus, however it appears that the portions printed in black and white first catch your eye. Revealing just enough on a sizzling red hot cover enables viewers a sneak peek. But you'll have to buy to see all.
Inside secrets: "Mr. February" finds no qualms about sharing feelings about size; "Ms. August" took her work out into the fields, and "The Flasher" faces his onlookers highlighting several facial expressions. "Mr. October" sings the blues while blood sucking mosquitos feast upon the subject – one of the job hazards; and "Ms. September," the first participant to render her photo, reminds viewers to "parish" any thoughts!
Profits from sales will be donated to a charitable children's organization. This calendar is expected to sell quickly. Call the guild gallery at 843/722-2425 or visit (http://www.charlestonartistguild.com/) for more information.