What has this got to do with the Carolina visual art community? – you might ask. Well plenty.  Jack Morris, organizer of the Charleston Art Auction is also organizer and partner of the Scottsdale Art Auction. What happens in Scottsdale could happen in Charleston, SC, one day. So it's related.

The largest crowd in history pressed auction prices to a new high for collectors of Western American art in the Scottsdale Art Auction sales room during two sessions on Saturday, March 31, 2012, in Scottsdale, AZ. When the hammer fell on the last of 392 lots offered, sales totaled over $16,250,000.00.
Top lot for the auction was a world record setting Howard Terpning oil,Captured Ponies (estimated at $400,000 to $600,000) that was fiercely contested by several bidders before it fetched $1,934,000 to a buyer on the telephone.  A Terpning oil earlier in the sale, Mystic Power of the War Shield, (estimated at $600,000 to $900,000) had broken the previous record when it sold for $1,710,000. By the end of the sale, six Howard Terpning oils and one drawing had achieved a total of $5,018,250.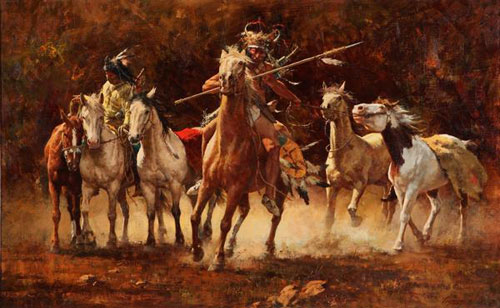 Howard Terpning oil, Captured Ponies
The morning session was highlighted by Ron Riddick's oil, The Blessing Dance, (estimated at $30,000 to $40,000) that brought a new record of $109,250 and a small oil, True Love, by Ray Swanson, (estimated at $3,500 to $5,000) that sold for $17,250. With 93% of the first session lots selling to an enthusiastic crowd the stage was set for an afternoon featuring works by the Taos Founders, Cowboy Artists of America and legendary paintings and sculpture by Russell, Remington and Frank Tenney Johnson.
Notable achievements included Frank Tenney Johnson's oil, When all is Quiet, (estimated at $400,000 to $600,000) that sold for $575,000,Packin' In, (estimated at $200,000 – $300,000) that brought $316,250 and an exceptional oil by W. Herbert Dunton, Roping a Wolf, (estimated at $250,000 – $350,000) that fetched $402,500.
Other lots of special interest featured Charles M. Russell's oil, Indian Scout on Horseback, (estimated at $400,000 to $600,000) that reached $690,000, a Russell bronze, A Bronc Twister, (estimated at $125,000 – $175,000) that hammered for $258,750, the iconic Frederic Remington bronze, Bronco Buster, (estimated at $75,000 to $125,000) that brought $87,250 and a dramatic Herman Herzog, oil landscape, In the Yosemite Valley, (estimated at $40,000 to $60,000) that sold for $207,000.
Among contemporary Western masters, Tom Lovell stunned the crowd with Marking the Crossing, an oil (estimated at $125,000 – $200,000) that sold for $402,500, two wildlife oils by Bob Kuhn, Game Watchers, (estimated at $200,000 to $300,000) that brought $230,000 andRenewal, (estimated at $100,000 to $200,000) that sold for $115,000.  An important early oil by Tom Ryan done on the 6666 Ranch, Two More for Chow, (estimated at $40,000 to $60,000) fetched $69,000 and an impressive Western landscape by Clyde Aspevig set a new record for the artist when it hammered down at $99,250.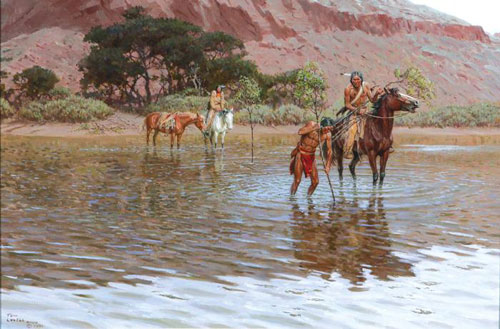 Tom Lovell's Marking the Crossing, an oil
With 90% of the 392 lots sold, one hundred twenty-seven lots (32%) exceeded the high estimate and the total sale exceeded the total low estimates by 20%. Over 500 potential bidders in the room and a telephone bank of 10 operators kept auctioneer Troy Black on his toes for over six hours. Scottsdale Art Auction has clearly established  leadership among auction houses for American Western, sporting and wildlife art.
For a complete list of all sales results visit (www.scottsdaleartauction.com). Sale date for 2013 has been set for Saturday, April 6th.
For further info contact Jack A. Morris, Jr. by calling 480/945-0225.