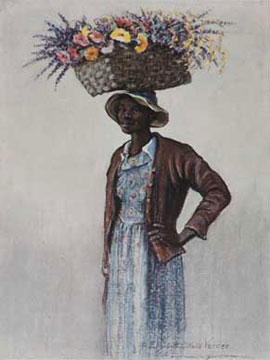 Work by Elizabeth O'Neill Verner
A few weeks ago I posted an entry here about our day on April 1, April Fool's day and I mentioned that one of the professionals at Morris & Whiteside Galleries on Hilton Head Island, SC, had called to remind me it was April Fools day – while in the middle of an art auction in Scottsdale, AZ, which ended up selling over 15 million dollars of art. I was amazed that they could find such time to call me, but later was honored to have them pull my leg in the middle of such an event.
A reader e-mailed asking if they could move that auction here. I replied that they are already here, but have not reached the 15 million mark here – yet. This e-mail prompted me to ask Jack A. Morris, Jr. with the Charleston Art Auction and Scottsdale Art Auction to send us some info about what's going on with these auctions. And he did.
I just want to add one point to the info Morris sent. Although the Charleston Art Auction takes place in Charleston, SC, this auction is a Southern event and an East of the Mississippi event. If you have some significant artworks that you would like to turn into cash and you're reading this from North Carolina, Georgia, Virginia, or even Rhode Island – give these folks a call. If you have works by Will Henry Stevens, George Biddle, Alfred Herber Hutty, Elizabeth O'Neill Verner, William Aiken Walker, – just to name a few – give them a call. You might also have works by regional artists still living that could bring you a nice return on your investment – who knows – give them a call.
One final point about Jack A, Morris. When you read that he was once head of the SC Arts Commission, that was the board and it was back in the 1970′s when the commission was more concerned with the arts in SC, not their image among other state arts agencies.
Charleston Art Auction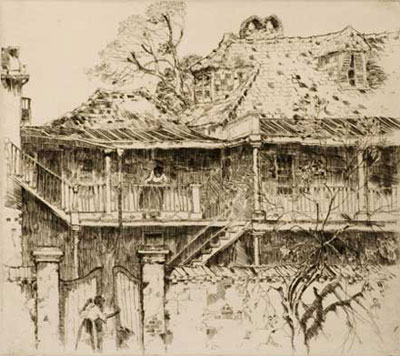 Work by Alfred Herber Hutty
A licensed auctioneer for over twenty-five years, Morris has organized sales in Texas, New Mexico, Arizona and South Carolina.  He is the organizing partner of Scottsdale Art Auction that recently sold over fifteen million dollars of American western, wildlife and sporting art on April 2, 2011. His roots, however, are in the South.  He was born in Macon, GA, educated at the University of South Carolina, is a former chairman of the South Carolina Arts Commission and author of the book, Contemporary Art of South Carolina.
For Morris, it is about creating an active secondary market to support collectors, galleries and others who need a trading center for fine art in Charleston similar to Sothebys, Christies and other auction houses scattered throughout the country. His partners, Ben Whiteside, Joe Sylvan and David Leahy have over fifty years combined experience in the auction business.
The plan is to establish Charleston Art Auction in the East to complement western auctions such as Scottsdale Art Auction, Coeur d'Alene Art Auction and Jackson Hole Art Auction. "We want to become an effective clearing house for those who need to sell paintings and sculpture by established artists," said Sylvan "and most professional retail galleries are not set up to provide that service."
"It is a building process that takes several years," added Whiteside "and, as we enter our seventh year, we are confident we have the essentials in place to provide that service." Conducted on the same weekend that Charleston Fine Art Dealers hold their Charleston Fine Art Annual, the auction draws collectors from throughout the United States and those buyers also help stimulate the local gallery economy.  The event has been sold out every year with standing room only and the auction this year will be held in a new, larger location at the Double Tree Hotel on Church Street on Saturday, November 5, 2011.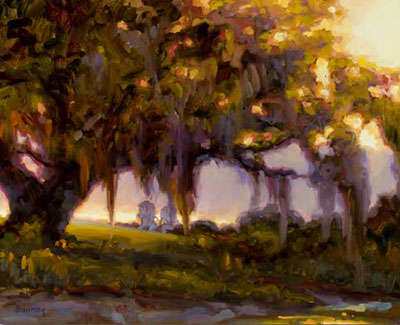 Work by Shannon Smith
The nationally advertised sale already holds auction records for Jonathan Green, Mary Whyte, Pino and Ray Ellis, among others. Charleston galleries have also found the venue a great opportunity to showcase some of their emerging artists and begin to establish sale records on internet sites such as AskArt and ArtNet.
The auction has a website, (www.charlestonartauction.com) and live bidding is available on the internet and through a phone bank of six operators at the sale. The auction is conducted by nationally acclaimed auctioneer, Gerald Bowie and attendees have described the evening event as "exciting and entertaining." Bidders have learned that they have to be on their toes with lots selling at the rate on one per minute, Bowie doesn't waste any time. Consignments are now being accepted for the 2011 auction. For more information, visit the Charleston Art Auction offices at 171 King Street, Charleston, SC, or call 843/842-4433 or 843/722-2172.
Scottsdale Art Auction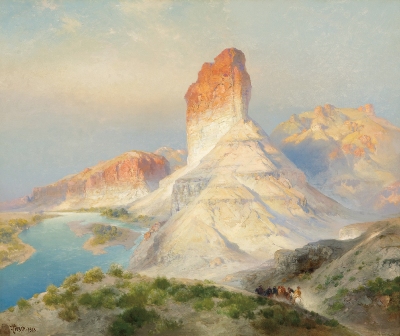 Work by Thomas Moran
There was standing room only for an eager crowd of Western art collectors in the Scottsdale Art Auction sales room on Saturday, April 2, 2011, in Scottsdale, AZ. When the hammer fell on the last of 411 items offered, sales totaled over $15,250,000.00.
Top lot for the auction was Thomas Moran's oil, Indian Summer, Green River, WY (estimated at $3,500,000 to $5,500,000) that was fiercely contested by two telephone bidders before it fetched $4,159,000 to a buyer in the room. Other lots of special interest included Frederic Remington's 27 inches by 40 inches oils, Pretty Mother of the Night-White Otter is No Longer a Boy, (estimated at $1,500,000 to $ 2,500,000) that brought $1,583,000 and The Wolves Sniffed Along the Trail but Came No Nearer, (estimated at $800,000 to $1,200,000) that reached $1,471,000; Charles M. Russell's 20 ¼ inches by 30 inches watercolor, Turning the Leader, (estimated at $150,000 to $250,000) hammered down for $460,000.
The morning session was highlighted by G. Harvey's cover painting,Mountain Mist, oil, 38 inches by 30 inches (estimated at $50,000 to $75,000) that brought $103,500 and Wet Weather Morning, oil, 20 inches by 16 inches (estimated at $15,000 to $20,000) that sold for $27,600.  With 90% of the first session lots selling to an enthusiastic crowd the stage was set for an afternoon featuring works by the Taos Founders, Cowboy Artists of America and legendary paintings and sculpture by Russell, Remington and Moran.
Notable achievements included Bert Phillips' 24 inches by 20 inches oil,Song of the Yellow Flower, (estimated at $250,000 to $350,000) that sold for $322,000; Ernest Blumenschein's White Sun, 20 inches by 16 inches, oil (estimated at $250,000 – $350,000) that brought $287,500 and a small, 10 inches by 7 inches oil by William Gollings (estimated at $40,000 – $60,000) that fetched $80,500.
Among contemporary Western masters, Tom Lovell stunned the crowd with Bad Face Strategy, oil, 24 inches by 36 inches (estimated at $125,000 – $175,000) that sold for $402,500 and Lewis and Clark Keep Their Journals, a 20 inches by 36 inches oil (estimated at $100,000 – $150,000) that brought $253,000. Other contemporary paintings of note included Howard Terpning's Blackfeet Among the Aspens, oil, 46 inches by 26 inches (estimated at $225,000 $325,000) that hammered for $281,750; Robert Griffing's Into the Unknown, oil, 30 inches by 50 inches (estimated at $60,000 – $90,000) that hit $161,000 and Melvin Warren'sA Cold Day on the North Bosque, oil, 36 inches by 60 inches (estimated at $70,000 – $90,000) that brought $149,500. John Coleman led all sculptors when his Explorer Artist Series, complete set of ten bronzes (estimated at $225,000 to $275,000) reached $299,000 and Frederic Remington's iconic Bronco Buster, (estimated at $75,000 to $125,000) sold for $138,000.
With 86% of the 411 items sold, seventy-five lots exceeded the high estimate and the total sale exceeded the total low estimates by 18%. Over 400 potential bidders in the room and a telephone bank of 10 operators keep auctioneer Troy Black on his toes for over six hours.  Scottsdale Art Auction has clearly emerged the leader among auction houses for American Western, sporting and wildlife art.
For a complete list of all sales results visit (www.scottsdaleartauction.com). Sale date for 2012 has been set for Saturday, March 31, 2012.
Tags: Charleston Art Auction, Charleston SC, Jack A. Morris Jr., Morris & Whiteside Galleries, Scottsdale Art Auction, Scottsdale AZ, Visiting Charleston SC, Visiting South Carolina