Here's is another pottery festival taking place in NC. This one is a fundraisers for students. Make plans now.
The Tradition Turners Pottery Festival (Keeping the Tradition Turning for Future Generations) will take place at West Lincoln Middle School, 260 Shoal Road, just off West Hwy. 27, in Lincolnton, NC, on Saturday, Oct. 9, 2010, from 10am to 4pm.
Admission is $5 and children under 10 get in free. The admission fee enters you for the pottery door prizes to be given away at 4pm.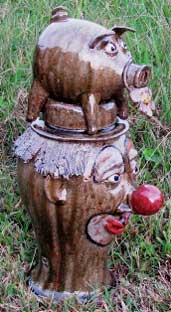 Work by Jeff Young
The Vale community is located in the Catawba Valley Pottery Region. There is a rich history of men who have carried on the old-fashioned style of pottery-making. Within a distance of 50 miles from West Lincoln Middle School, one can find over a hundred potters busy at the wheel, whether as full time artists or as hobbyists.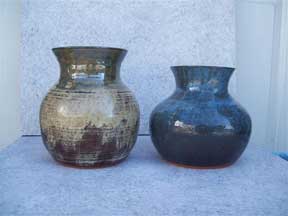 Work by Olivia Walker Mourglea
The Tradition Turners Pottery Festival committee wanted a way to showcase the talented people from this area and beyond who are caring on the legacies started by such men as Burlon Craig, Harvey & Enoch Reinhardt, John Wesley Hilton, O'Henry, EJ Brown and Sylvanus Hartsoe. The Committee is comprised of those who have a love for pottery whether by collecting, turning or just admiring all aspects of pottery making.
Monies raised will support the West Lincoln Middle School Student Involvement Fund. This fund will be used for various aspects of the school and student needs.
Potters scheduled to participate include: Lorrie Anderson, Thomasville, NC; Deborah Appleby, Hayesville, NC; Gene Arnold, Mt Airy, NC; Marvin Bailey; Lancaster, SC; Libby H. Baxter, Vale, NC; Bobbie Black, Denver, NC; Ronnie Blackburn, Shelby, NC; Bruce Bley, Monroe, GA; Pebble Bryson, Carthage, NC; Renee Clemmer, Stanley, NC; Sandy Cole & Kevin Brown; Sandford, NC; Roger Corn, Lula, GA; Arnold Correll, Lenoir, NC; Hal Dedmond, Lawndale, NC; Kim Ellington, Vale, NC; Walter Fleming, Statesville, NC; Pat Foeller, Reidsville, NC; Kimbrell Frazier, Lincolnton, NC; Vicki Gill, Gastonia, NC; Deborah Gerard, Forest City, NC; Cora Hedgepath, Fort Lawn, SC; Wayne Hewell, Gillsville, GA; Gene Isenhour, Connelly Springs, NC; Freeman & Maggie Jones, Black Mountain, NC; Susan Jones, Shelby, NC; Craig & Michelle Kovack, Seagrove, NC; Michael Ledford, Shelby, NC; Richard Lee, Gastoina, NC; Kim & Rodney Leftwich, Mills River, NC; Ronald Lesley, Shelby, NC; Cynthia Link, Gaffney, SC;  Sally & Don Lufkin, Asheboro, NC; Suzon Martin, Eden, NC; Mark & Coni Merritt, Macon, GA; Raine Middleton, Denver, NC; Vicki Miller, Creston, NC; Thomas Minton, Vale, NC; Olivia Walker Mourglea & Carolyn Walker, Vale, NC; Otis Norris, McBee, SC; Wayne Norris, Coats, NC; Dianne Poovey, Vale, NC; John & Scottie Post, Vale, NC; Jim Rientjes, Greensboro, NC; Jack Sexton & Grace Carr, Mt. Holly, NC; David Slater, Madison, NC; Robert Stevens, Lancaster, SC; Randy Tobias, Sylva, NC; Steve Turpin, Homer, GA; Lin Venhuizen, Rutherdfordton, NC; Mark Williams, Bogart, GA; Rob Withrow; Brasstown, NC; and Jeff Young, Vale, NC.
For further information e-mail at (TraditionTurnersFestival@charter.net) or visit (http://traditionturnerspotteryfestival.com).