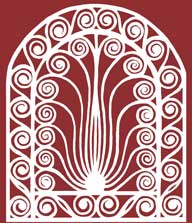 That's right – it all begins again Friday – the Iron Man/Iron Woman competition of the arts. Seventeen days of whatever Mother Nature can dish out; the daily set up and take down; a marathon of questions from visitors; the overheard comments meant to be heard about your art; and the endless wait for some thief to do their thing during the night – so the show can get some publicity in the daily paper.
Why? Yes, indeed, why would people put themselves through such a test of will? Simply said – they are visual artists – they can't help themselves. Plus – if things go right – you can make a lot of money in seventeen days. But it won't happen to everyone and there is always the chance that it won't happen for anyone. But they keep lining up every year to do it again – some for the first time, some for their 20th time, and for a few – they can't remember when they didn't do this show. So, what does that tell you? There must be something about doing this show.
Oh, I've heard about the wild parties that go on, the mistaken sales of works that were had for 1/2 off, just because an artist got confused in marking their works. One year it was said that an artist did really well in sales, but lost all their profits in a game of Hearts. Another year a female artist refused to miss the show and a doctor from Atlanta passing by their tent ended up delivering twins on the spot. He also purchased a fairly large painting. I've even heard that Charleston's SWAT team does it's nighttime training in Marion Square during the run of the show.
I think these stories are just a bunch of lies, rumors and urban myths – but I've heard some things that I know are true, but I'm sworn to secrecy. It's one of those things that you have to experience for yourself before you'll believe it.
I've got the "official" press release here, but I wanted you to get a look see – behind the curtain and tell you to read between the lines. There's much more going on here than the "official" word. They want you to think that just because it's free you can afford to pass this show up out of the hundreds of events being offered during the two festivals. But, I ask, "Can you?" (wink, wink)
Don't say I didn't give you a heads up.
Piccolo Spoleto Outdoor Art Exhibit Begins This Friday in Marion Square in Charleston, SC – May 27, 2011
The 2011 Piccolo Spoleto Outdoor Art Exhibit will take place once again in Marion Square Park in historic downtown Charleston, SC, from May 27 through June 11, 2011, 10am-6pm.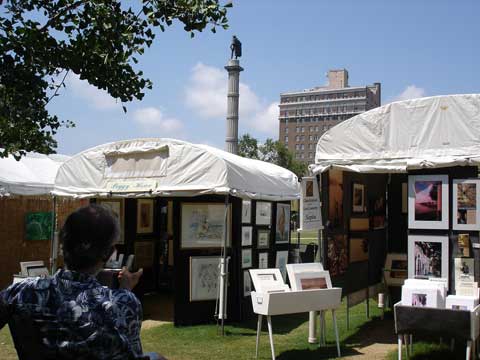 The event is an official program of The City of Charleston's Office of Cultural Affairs, under the direction of Ellen Dressler Moryl. The show is coordinated by Billie Sumner and Victoria Platt Ellis. Over 100 of South Carolina's best visual artists will set up tents filled with art in a variety of media in the park which can be found between King and Meeting Streets at the intersection of Calhoun Street.
This annual outdoor art exhibition is one of the most popular free events taking place during Piccolo Spoleto Festival and Spoleto Festival USA, visited by thousands of art lovers and art collectors. The exhibit offers something for everyone's artistic flavor, along with the opportunity to meet and talk with the artists.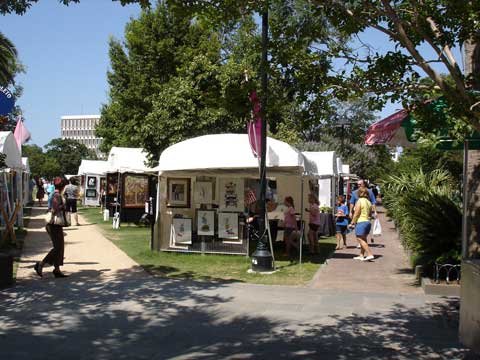 The event begins at 10am on the morning of May 27, 2011, but the artists will be in anticipation of the 4:30pm Awards Presentation, where Charleston's Mayor Joe Riley and Ellen Dressler Moryl will announce the winners selected by this year's juror, Juan Logan of Chapel Hill, NC.
Daily art demonstrations will take place at 11am and 2:30pm, May 29 – June 10, with the exception of the first demo which starts at 1pm on May 29.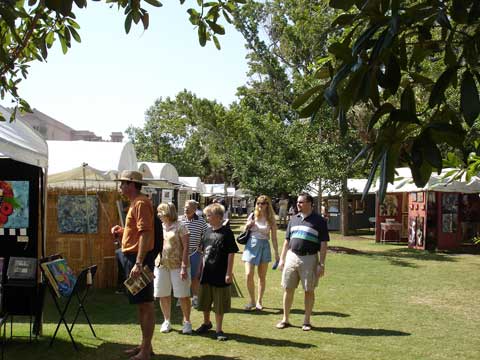 The schedule includes:
Sunday, May 29 at 1pm – Steven Jordan (Portrait)
Monday, May 30 at 11am – Bette Lu Bentley-Layne (Acrylic) and at 2:30pm – Alice Stewart Grimsley (Watercolor)
Tuesday, May 31 at 11am – Scott Henderson (Photography) and at 2:30pm – Kent Ambler (Woodcut Carving)
Wednesday, June 1 at 11am – Alvin B. Glen (Mixed Media) and at 2:30pm – Rick Reinert (Oil)
Thursday, June 2 at 11am – Deborah Meyer (Oil) and at 2:30pm – Detta Zimmerman (Acrylic)
Friday, June 3 at 11am – Joyce Hall (Oil) and at 2:30pm – Russell Buskirk (Pastel)
Saturday, June 4 at 11am – Laurie Meyer (Oil) and at 2:30pm – J. Carol Gardner (Mixed Media)
Sunday, June 5 at 11am – Madeline Dukes (Oil Sticks) and at 2:30pm – Kevin LePrince (Oil)
Monday, June 6 at 11am – Sherry Browne (Paper Cuts) and at 2:30pm – Michael Nocher (Photography)
Tuesday, June 7 at 11am – Steve Jacobs (Watercolor Basics with Paper Stretching) and at 2:30pm – Joanna Jackson (Oil)
Wednesday, June 8 at 11am – Nancy Davidson (Pastel) and at 2:30pm – Carl Crawford (Collage Illusions)
Thursday, June 9 at 11am – Hilarie Lambert (Oil) and at 2:30pm – Lynne Hardwick (Mixed Media)
Friday, June 10 at 11am – Amelia Whaley (Watercolor).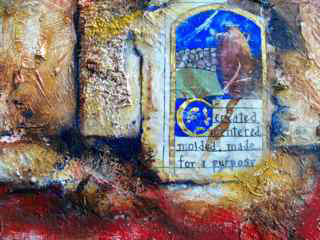 Work by Amelia "Mimi" Whaley
This year, social media will have a major impact on the Outdoor Art Exhibit. For years Amelia (Mimi) Whaley has been blogging daily from the park on her personal blog (http://www.mimispaintingaday.blogspot.com/) starting after the first day of the festival. This year she is setting up a Piccolo Spoleto Outdoor Art Exhibit group blog (http://psoaeblog.blogspot.com/) where several people will be adding their observations from the park. You can even log onto the Outdoor Art Exhibit's Facebook page at this link (http://www.facebook.com/pages/Piccolo-Spoleto-Outdoor-Art-Exhibit-2011/154715674583540).
For further information contact the Office of Cultural Affairs at 843/724-7305 or visit (http://www.charlestonarts.sc/) or (www.piccolospoleto.com).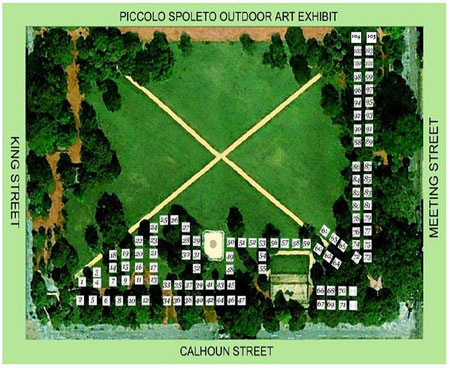 Piccolo Spoleto Outdoor Art Exhibitors by Space # &    Name:
1 – Danny O'Driscoll
2 – Steve Jacobs
3 – Sandra Phillips
4 – Dianne Munkittrick
5 – Deborah Meyer
6 – Thomas Greaves
7 – Stephanie Shuler Hamlet
8 – Ron Anton Rocz
9 – J.Carol Gardner
10 – Peggy Howe
11 – Sarah Kargol
12 – Karen Hewitt Hagan
13 – Sabine Avcalade
14 – Nancy W. Rushing
15 – Colleen Critcher
16 – Amelia Rose Smith
17 – Elizabeth R. Middour
18 – Alana M. Knuff
19 – Michael Nocher
20 – Carl Crawford
21 – Pat Forsberg
22 – Joyce Hall
23 – Marie Scott
24 – Kathy Clark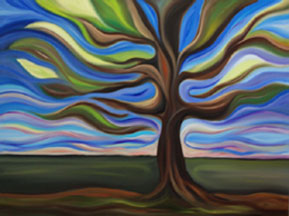 Work by Andrea "Dre" Neff
25 – Andrea "Dre" Neff
26 – Jim Victor
27 – Bob Graham
28 – Guy Stevens
29 – Kaye Penegar
30 – Honor Marks
31 – Steven Jordan
32 – Judith Chamberlin
33 – Elaine Berlin
34 – Susan H. Colwell
35 – Helen Duckworth
36 – Alice Stewart Grimsley
37 – Lynne N. Hardwick
38 – Jane Jackson
39 – Melinda Lewin
40 – Kellie Jacobs
41 – Christine Crosby
42 – Madison Latimer
43 – Suzanne Sasser
44 – Tate Nation
45 – Daryl Knox
46 – Vicki Gates
47 – Nancy Davidson
48 – Anita Blewer
49 – Sandra Baggette
50 – Alicia Leeke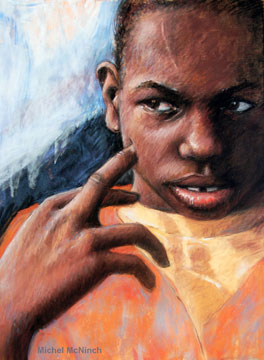 Work by Michel McNinch
51 – Michel McNinch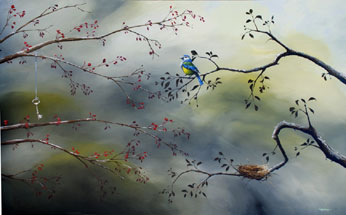 Work by Steve Neff
52 – Steve Neff
53 – Dwain Ray
54 – Mary Segers
55 – Carole Carberry
56 – Colleen Wiessmann
57 – Scott Henderson
58 – Floyd Gordon
59 – Joanne Evans
60 – Kathy Crowther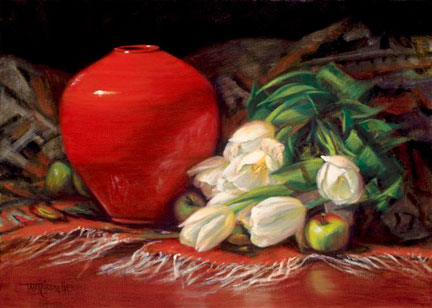 Work by Tami Cardnella
61 – Tami Cardnella
62 – Robin Brizard
63 – Kent Ambler
64 – Chris Rutigliano
65 – Judy Clark
66 – Craig Williams
67 – Jan Sasser
68 – Diane Odachowski
69 – John Michiels
70 – Alvin B. Glen
71 – Bette Lu Bentley-Layne
72 – Richard A. Johnson
73 – Sharon Fowler
74 – William Davies
75 – Jan Genosi
76 – Julie Lawrence
77 – Alison Weick
78 – Bonnie M. Stabler
79 – Fred Jamar
80 – Sherry Browne
81 – Joanna Jackson
82 – Amelia Whaley
83 – Katherine Dutremble
84 – Sheryl Stalnaker
85 – Cat Wondergem
86 – Vicki Robinson
87 – Kevin LePrince
88 – Rana Jordahl
89 – KC Collins
90 – Jennifer Black & Madeline Dukes
91 – J. Michael Kennedy
92 – Caryn Smith
93 – Danita Cole
94 – Rick Reinert
95 – Tammy Papa
96 – Jack Thames, Sr.
97 – Russell Buskirk
98 – Diane Dean
99 – Tiffany Maser
100 – Betty Condon
101 – Laurie Meyer
102 – Scott Penegar
103 – Detta Cutting Zimmerman
104 – Hilarie Lambert
105 – Nance Lee Sneddon
and of course Vicki Ellis will have a tent which is the show's headquarters near the corner of Meeting and Calhoun Streets and another tent in the same location will feature works by Monnie Johnson, the husband of Vicki's assistant, Lesley Johnson.
Tags: Charleston SC, Marion Square Park, Piccolo Spoleto Festival, Piccolo Spoleto Outdoor Art Exhibit, The City of Charleston's Office of Cultural Affairs, Visiting Charleston SC, Visiting South Carolina